You are here
King meets Ajloun development master plan steering committee
His Majesty urges tangible progress felt by local communities
By JT - Nov 13,2019 - Last updated at Nov 13,2019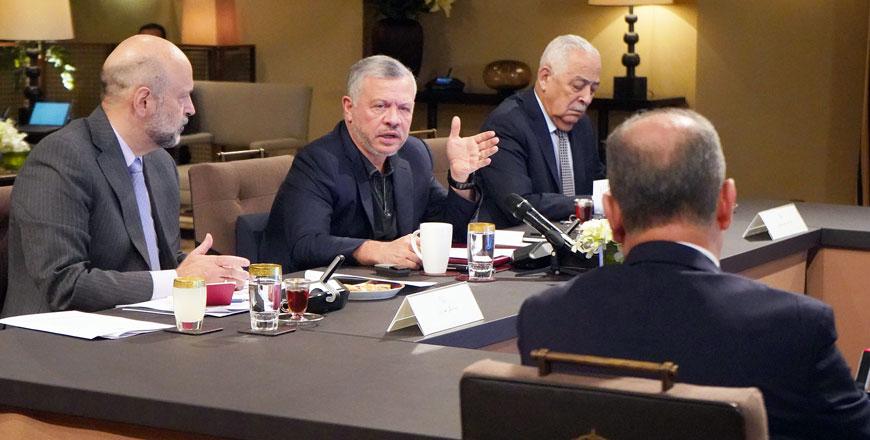 His Majesty King Abdullah speaks during a meeting with the steering committee for the Ajloun development master plan at Al Husseiniya Palace on Wednesday (Photo courtesy of Royal Court)
AMMAN — His Majesty King Abdullah, during a meeting on Wednesday with the steering committee for the Ajloun development master plan, directed the government to launch two awards for the most creative development project at the municipal level and for the cleanest municipality.
During the meeting, held at Al Husseiniya Palace and attended by Prime Minister Omar Razzaz, King Abdullah also directed the government to study introducing a prize for the most effective and swiftly implemented development project at the governorate level, and to study establishing a national fund that enables Jordanians at home and abroad, as well as investors, to invest in national projects.
The meeting is a follow up on His Majesty's directives to the government, during a visit to Ajloun last August, to prepare a comprehensive development plan for the governorate, according to a Royal Court statement.
The King emphasised attracting investment opportunities to Ajloun as a priority and a cornerstone for development in the governorate, making it an international tourist destination.
His Majesty stressed the need for tangible progress that can be felt by Ajloun residents through job creation and better living standards, noting that he will periodically check on progress.
His Majesty highlighted Ajloun as home to some major tourist attractions, noting the need for infrastructure, facilities, products and services to prolong the stay of tourists, and stressing the value of partnerships between the government, residents and their local councils in that regard.
His Majesty noted the importance of training and qualifying young people in Ajloun to enable them to start their own projects, and to take advantage of relevant national programmes, especially the self-employment programme "Inhad".
For his part, Prime Minister Omar Razzaz said the government, upon Royal directives, formed the steering committee to prepare the Ajloun development master plan, with members include all relevant stakeholders, in partnership and consultation with the Ajloun Governorate Council.
He added that the committee has prepared a blueprint based on the governorate's competitive advantages and tourism potential, focusing on attracting and promoting tourism investments as a pillar for Ajloun's development, thus stimulating the local economy and providing employment opportunities for young people in the governorate.
Tourism Minister Majd Shweikeh, who heads the master plan's steering committee, reviewed the plan, highlighting its two tracks — the fast track (2020 - 2022), which includes executive measures in the more immediate term, and the second track, which includes the wider Ajloun development master plan, during the period 2020-2040.
Royal Hashemite Court Chief Yousef Issawi, Adviser to His Majesty for Communication and Coordination Bisher Al Khasawneh, and Adviser to His Majesty for Policies and Media Kamal Al Nasser attended the meeting.
Newsletter
Get top stories and blog posts emailed to you each day.