You are here
King, Merkel 'see eye-to-eye' on regional challenges
By JT - May 14,2015 - Last updated at May 14,2015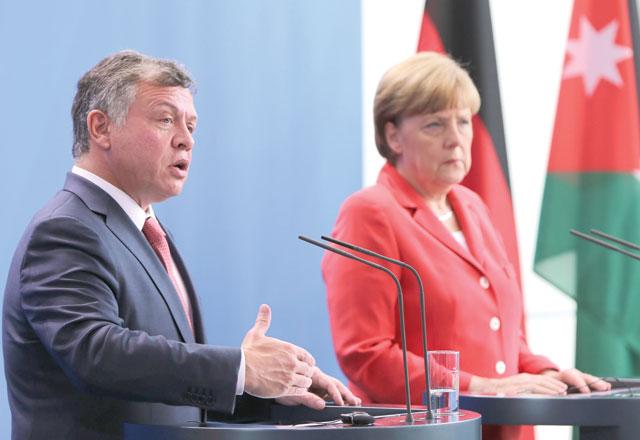 AMMAN — His Majesty King Abdullah and German Chancellor Angela Merkel on Wednesday held talks which focused on developing Jordanian-German cooperation in various fields, besides reviewing regional developments.
King Abdullah expressed his satisfaction with the level of Jordanian-German relations, commending Germany's support for the Kingdom, as it "boosts its capabilities in dealing with economic challenges and carrying out development programmes", a Royal Court statement said.
Talks addressed current regional conditions and challenges facing the Middle East, especially in relation to international efforts exerted to confront the danger of terrorism, as well as efforts to achieve regional stability.
In this context, the King noted that international key parties and powers should adopt a holistic strategy to confront all forms of terrorism and radicalism.
Regarding regional peace efforts, the King reasserted that international key powers and parties should intensify their efforts to bring about conditions that would be conducive for the revival of the peace process between the Palestinians and the Israelis.
They should remove obstacles that preclude the resumption of peace negotiations, on the basis of the two-state solution and international resolutions, the King said.
Talks addressed challenges that several Arab countries are facing, including Syria, Iraq, Libya and Yemen, with both sides stressing the need to arrive at inclusive political solutions that safeguard these countries' stability, sovereignty and the security of their people.
Merkel stressed her country's commitment to strengthening its friendship with the Kingdom, adding that she was looking forward to expanding prospects of joint cooperation between the two countries in various fields.
She said Germany considers the Kingdom a strategic partner in dealing with the current challenges, and enhancing stability and security in the Middle East and the world as a whole.
She expressed her appreciation of the key role played by Jordan, led by King Abdullah, along with various international parties, in dealing with the danger of terrorism and confronting terrorist groups, being a common global threat.
At a joint press conference following the talks, His Majesty underlined his keenness to strengthen ties between Jordan and Germany and continue consultation on issues of mutual concern.
In his remarks, King Abdullah said: "As always, madam chancellor, it is a great honour to meet with you and a pleasure to be back here in Germany.
On behalf of all of us, myself and all Jordanians, I would like to thank you, the German government and the German people for the constant support that you have shown Jordan all over the years."
The King added that the investment Germany has made in Jordan "is bearing fruit for both our countries on a wide range of economic, cultural and educational fields. I, personally, and our country, value this opportunity to build on our strong and valuable strategic partnership".
Particularly at this critical time, he said, "Jordan places great importance on working with our partners within the EU on the many challenges our region faces; and beyond that on advancing peace, security and stability in our region and worldwide."
Outlining the outcome of his meeting with Merkel, King Abdullah said: "In today's meeting, as the chancellor said, we reviewed many areas of concern in our region. Obviously, Germany plays a very vital role, not only in this part of the world, but also in our region, and I think we have covered a lot of ground, where specifically, the global threat of terrorism is something that brings Germany and Jordan closer together, and how the coordination between Jordan and Germany unites us in containing and countering extremism and terrorist groups plaguing the world."
On the threat of terror, His Majesty said that never has such a threat been as widespread as it is today.
"It is not just about Daesh, ISIS, in the Middle East, but also Boko Haram and Al Shabab in Africa. These dangers cannot be approached in isolation, and we have talked about how we create a holistic approach in dealing with those issues in the Middle East, Africa, Asia and beyond."
"We also, as the chancellor said, talked about the challenges of the Palestinian-Israeli conflict; and, again, this is the most persistent problem in our region, and a major contributor to extremism and recruitment of extremists throughout the world. I think both of us see that the only way out is to push both parties together in pursuing the two-state solution."
The King urged further cooperation between the two countries.
"We have a very strong future together, both Jordan and Germany. We are determined to walk together in this path forward."
The Monarch repeated his thanks for Germany's standing by Jordan as it faces the refugee crisis.
"And, again, on behalf of my people, I would like to really thank Germany, one of the leaders in support to Jordan in the challenge that we have with our refugee problems. As the chancellor knows, 20 per cent of our population is of Syrian refugees, and it is Germany and the German people, who have been probably one of the top countries who have been supporting not only Jordan, and its infrastructural problems because of the refugees, but also supporting the Syrian refugees in our country. It is like the whole of the Netherlands coming into Germany in a very period of short time. And we are so grateful to the German government and Germany people for the aid they have given our country."
In response to a question on the relationship between Jordan and Germany, and also between Jordan and the EU regarding the several challenges facing the Middle East, he said that the "relationship between our two countries are unique and strong. Politically, we have always had a strong relationship. The chancellor and I have always met eye-to-eye on all of the political challenges in the Middle East."
"We value Germany's role and the stability they bring to our region, the support that they have given in bringing peace and stability to many of the issues that are facing our country and it is reflective of the European Union's position of bringing peace, hope and stability to the peoples of our region. And, again, Germany plays a very strong and vital role as part of the European Union and we are very, very grateful for that position, not only in our region, but the stability it brings to the international community."
Asked if Jordan is ready to participate in a military offensive against ISIS in Mosul and a ground offensive in Yemen, His Majesty said that in Iraq "we are the only Arab army that is working with the coalition inside of Iraq".
"At this stage, it is the use of the air force. Mosul, as you know, geographically, is up close to the Kurdish border, which is very far away from Jordan. Our responsibility, from the Jordanian perspective, is in the western part of Iraq. So on the eastern border of Jordan, where ISIS is present, in the first 120 kilometres, is our area of responsibility. So depending on what the Iraqi and coalition objectives are over the coming summer, and how that reflects on ISIS in our area of responsibility, would be where the Jordanian armed forces would have some sort of play."
As to the second part of the question, he continued: "We are part of the coalition in Saudi Arabia, for the defence of Saudi Arabia, and at this stage, the priorities are to defend our allies, the Kingdom of Saudi Arabia. So at this stage there is no procedure from the Jordanian armed forces to get involved in any ground offensive in Yemen."
For her part, Merkel said in her remarks: "I am delighted to have the King of Jordan as our honoured guest in Berlin today. It is a pleasure to have him because Jordan plays such a central role in the solution of a number of conflicts, and this is why we always have a very intensive talk, as we usually have, and one that is characterised by a spirit of friendship."
She singled out Jordan as "carrying a very large burden, as one of the consequences of the Syrian civil war. We are trying to help, from a humanitarian perspective, but I would like to use this opportunity to thank the King from my heart for carrying this burden in a situation that is far from easy; and Germany is going to continue to give support. Overall support has been so far 840 million euro; 230 million have just gone to Jordan in order to support you."
Calling for orchestrated efforts to address regional crises, the chancellor said: "We, all of us, and we share this conviction, are trying to bring about a political solution to the civil unrest in Syria; and the solution can only ever come about in consultation with the international community and the support of the international community. And I think similar to what we have been able to achieve with Iran, is to try to rally around the veto powers and those that sit on the UN Security Council around such a solution."
She noted that her visit to Moscow was important in this respect because "I had an opportunity there to address this issue. They have to play a very important role as do the Americans. I thought it was a very hopeful signal to see Secretary of State Kerry go to Sochi and address this issue there as well."
"Basically, what this issue is about is to fight against the terrorist organisation ISIS both in Syria and Iraq. Jordan is very much engaged on this, but Germany, as you know, has become engaged very much to support the Kurdish side, also in consultation with the Iraqi central government. The question of inclusion, of actually including all the religious groups in Iraq is very important and we wish Prime Minister [Haider] Al Abbadi every success."
The German official added: "We want to help to give humanitarian assistance to those areas that have been liberated from ISIS. We think it's most important to give this assistance to Iraq, but also in consultation with Jordan, if necessary."
On Yemen, she said: "We have also discussed the conflict in Yemen and can only hope that the political efforts that are being put in to solve this will be crowned by success because it is incredibly difficult to solve this by military means alone."
Merkel concluded: "Last but not least, the Middle East conflict is of central importance. Yesterday, in my talk with the president of Israel, I made it very clear that we are concentrating on a two-state solution and we will do everything in order to be helpful, although we know that this is going to be very much an uphill battle, but we believe only a diplomatic solution will bring about a result."
Also on Wednesday, King Abdullah held talks with German President Joachim Gauck in Berlin that focused on bilateral relations and latest regional and international developments.
During the meeting, the two leaders expressed keenness on improving Jordanian-German cooperation especially in economic and political fields, according to the Royal Court.
The two leaders also stressed the need to maintain coordination and consultation between the two countries on various regional and international issues of mutual concern.
The King underlined the contributions Germany can offer in solving problems in the Middle East, especially terrorism and radicalism, reiterating that combating terror requires a comprehensive strategy covering military, security, ideological, social and educational aspects.
On the peace process, the Monarch stressed the need for intensified international efforts to remove all obstacles hindering the re-launch of Palestinian-Israeli peace negotiations on the basis of the two-state solution, the statement said.
Talks between the two leaders also tackled the latest developments in Syria, Iraq, Libya and Yemen, according to the statement.
For his part, the German president expressed keenness on improving his country's ties with Jordan in all fields, expressing appreciation of the Kingdom's regional role.
The meeting was attended by Royal Court Chief Fayez Tarawneh, Foreign Minister Nasser Judeh, King's Office Director Jafar Hassan, Amman's Ambassador to Berlin Mazen Tal in addition to several senior German officials.
King Abdullah also met with Germany's Minister of Defence Ursula von der Leyen and discussed ways to boost cooperation between the two countries, especially in military and defence fields.
Jordan and Germany enjoy solid and strong relations as they are bound by several agreements, including the partnership agreement with the EU. In 2014, the Kingdom's exports to Germany were around JD29.4 million while its imports are valued at JD637 million.
Related Articles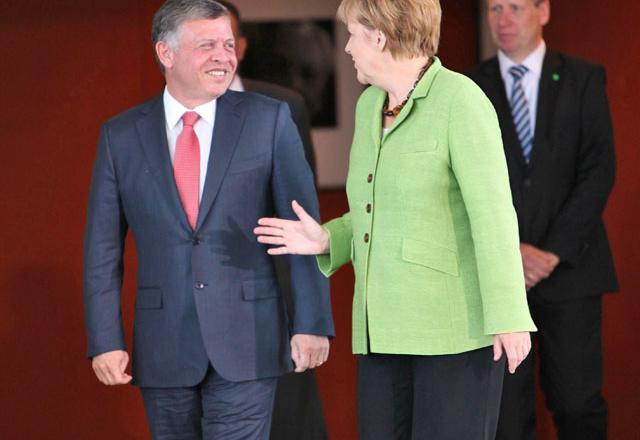 Jun 24,2014
His Majesty King Abdullah and German Chancellor Angela Merkel on Tuesday held talks in Berlin that focused on boosting the Jordanian-German relations and the recent developments in the Middle East, especially in Syria and Iraq.
Oct 09,2016
AMMAN – His Majesty King Abdullah on Friday discussed with German Chancellor Angela Merkel ways to boost bilateral cooperation and the lates
May 16,2015
His Majesty King Abdullah on Saturday received German Foreign Minister Frank-Walter Steinmeier who is visiting the Kingdom as part of a regional tour.
Newsletter
Get top stories and blog posts emailed to you each day.