You are here
King, Queen visit centre for disabilities in Ruseifa
By JT - Jun 20,2016 - Last updated at Jun 20,2016
Their Majesties King Abdullah and Queen Rania with children served by a charity centre in Ruseifa on Sunday (Photo courtesy of Royal Court)
AMMAN — Their Majesties King Abdullah and Queen Rania on Sunday visited Al Amal Al Jadid Centre for people with disabilities in Ruseifa, 15km east of Amman.
They checked on the quality of services offered to children and toured the facility, according to a Royal Court statement.
The centre, affiliated with the Social Development Ministry, serves around 83 children with different disabilities, taken care of by 82 specialised experts and trainers.
In a tour of the centre's facilities, King Abdullah and Queen Rania were briefed by Iman Khazaaleh, the centre's director, on the needs of children with various disabilities, whether those admitted to the centre or those who benefit from services offered through a day care programme.
The centre features a physical therapy ward, which has technical support devices and a pool, used to improve children's movement.
The centre, opened in 1984, provides educational and rehabilitation services under a programme for in-patients and out-patients.
The centre offers extracurricular activities, speech therapy and physical therapy, all within a system of academic semesters.
There are 64 children admitted to the centre and 19 others benefitting from day-time services, aged between 6-12 years for males and 6-18 years for females, whose disabilities vary in intensity.
King Abdullah and Queen Rania urged officials at the Royal Hashemite Court to provide the centre with new furniture and necessary equipment, in addition to installing a rubber ground for the centre's park. In response to a request by the children themselves, His Majesty ordered that a trip be arranged to tourism locations around the Kingdom.
Royal Court Chief Fayez Tarawneh, Secretary General Yousef Issawi, who is in charge of implementing Royal social initiatives, and Social Development Minister Khawlah Armouti accompanied the King and the Queen in the visit.
Related Articles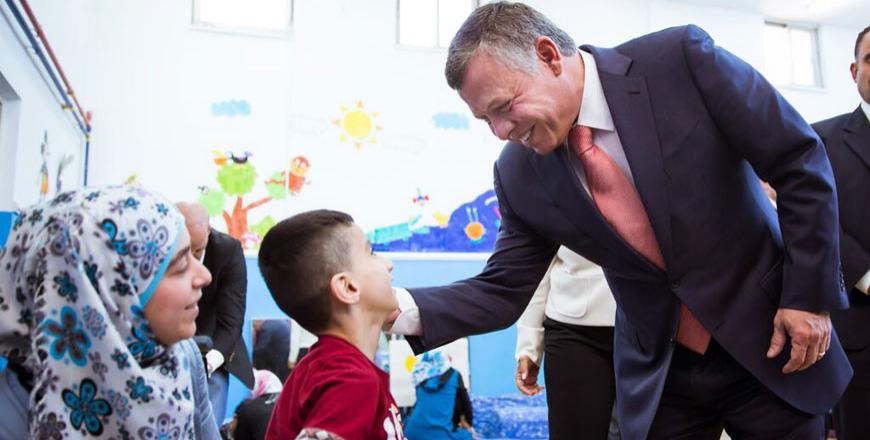 Jun 22,2015
AMMAN — Their Majesties King Abdullah and Queen Rania on Monday paid a visit to the Jordan Centre for Training and Inclusion (JCTI) and chec
Dec 10,2017
AMMAN — Her Majesty Queen Rania on Sunday visited Our Lady of Peace Centre for Persons with Disabilities, which runs several programmes that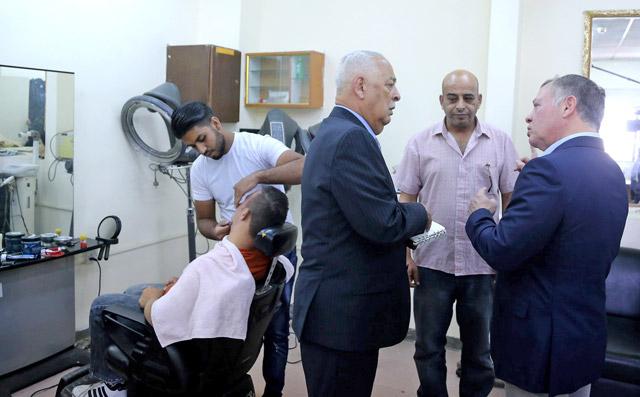 Jun 05,2017
AMMAN — His Majesty King Abdullah on Sunday made a surprise visit to a rehabilitation and employment vocational centre for people with disab
Newsletter
Get top stories and blog posts emailed to you each day.