You are here
King urges dialogue to keep Iraq's unity intact
His Majesty says any new conflict would serve terrorists' agenda
By JT - Oct 24,2017 - Last updated at Oct 24,2017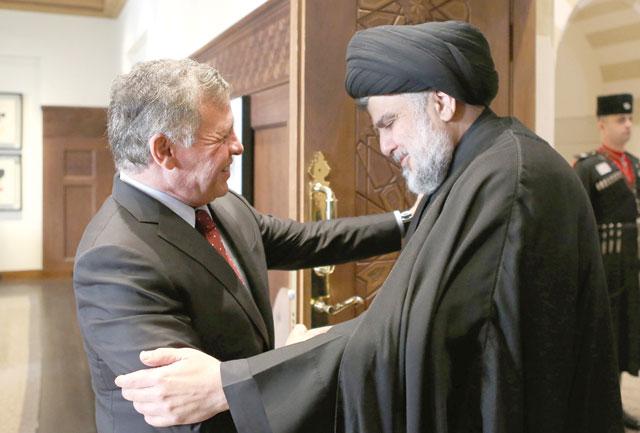 His Majesty King Abdullah greets the leader of the Iraqi Sadrist Movement Moqtada Al Sadr in Amman on Monday (Photo courtesy of Royal Court)
AMMAN — His Majesty King Abdullah met with leader of the Iraqi Sadrist Movement Moqtada Al Sadr on Monday over the latest developments in the Iraqi arena, according to a Royal Court statement.
The King and Sadr — during the meeting that was attended by HRH Prince Ali and HRH Prince Ghazi, King's Special Adviser for Religious and Cultural Affairs and Personal Envoy of His Majesty — highlighted the need to give priority to dialogue to preserve the territorial integrity of Iraq, in line with the constitution.
His Majesty stressed that the region cannot survive a new conflict that would only play into the hands of terrorists.
His Majesty noted that the Iraqi army's victories over Daesh provide a solid launch pad to enhance the country's security and stability and sustain its unity.
The King also renewed Jordan's support for efforts aimed at achieving Iraqi national concord engaging all Iraqi political factions, adding that such coherence is necessary to build a safe, stable and united Iraq that fulfils the need to secure the future to which Iraqis aspire.
The Monarch underlined the important role of the Sadrist Movement and Sadr in the political process, commending their patriotic stands and highlighting, in this regard, the positive development in Iraq's relations with Arab countries.
During the meeting, the two sides also highlighted the importance of enhancing the values of tolerance and moderation, with Sadr praising Jordan as a "good model of moderation in the region".
Sadr expressed his appreciation for Jordan's stances that support the unity, stability and prosperity of Iraq.
Related Articles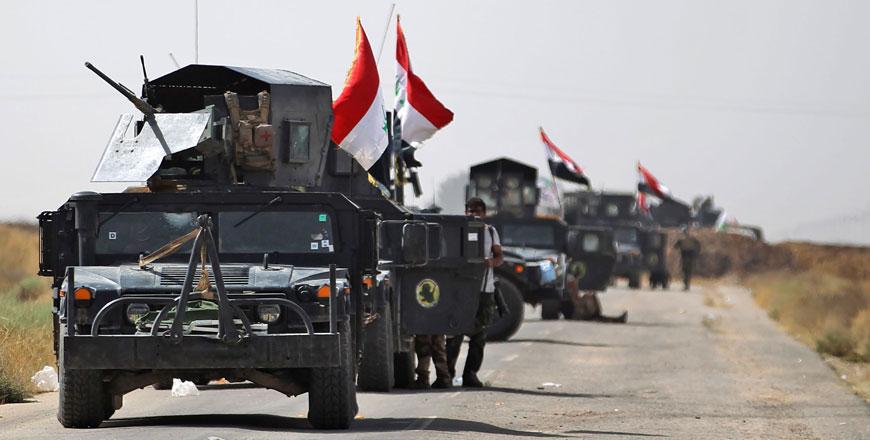 Oct 04,2017
AMMAN — His Majesty King Abdullah on Tuesday renewed Jordan's support for Iraq in "its efforts to maintain its security, stability, integrit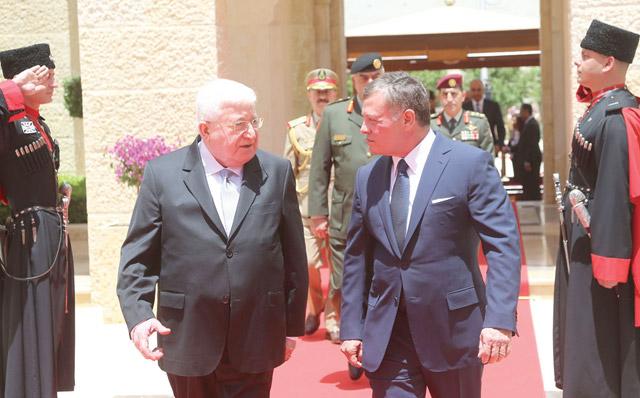 May 18,2017
AMMAN — His Majesty King Abdullah and Iraqi President Fuad Massoum on Thursday discussed the "deep-rooted" relations between the two countri
Dec 22,2014
His Majesty King Abdullah on Monday received Iraq's Defence Minister Khaled Al Obeid at Al Husseiniya Palace over cooperation between the two countries, especially in the military field, according to a Royal Court statement.  
Newsletter
Get top stories and blog posts emailed to you each day.