You are here
King visits army-run centre for rehabilitating amputees
By Petra - Feb 09,2015 - Last updated at Feb 09,2015
AMMAN — His Majesty King Abdullah, the Supreme Commander of the Jordan Armed Forces-Arab Army (JAF), on Monday paid a visit to Al Hussein Medical Centre's National Centre for the Rehabilitation of Amputees.
Established in 2007 and affiliated with the Royal Rehabilitation Centre of the Royal Medical Services (RMS), the facility has transformed old artificial limbs into more advanced and modern prosthetics in line with international standards.
The centre also developed the industry of prosthetic limbs and chiropractic devices engineered with the use of computer-aided design and manufacturing technology.
King Abdullah toured the centre's facilities, during which he was acquainted with its role in rehabilitating injured military personnel and their families to enable them to enjoy a normal life.
His Majesty also listened to a briefing on the experiences of people with artificial limbs and those who have received other services at the centre.
The King had tasked concerned officials at JAF and the RMS to provide the centre with state-of-the-art and "smart" prosthetic limbs to benefit servicemen who were wounded in the line of duty.
Last week, five artificial arms were supplied to amputees from the military under a Royal makruma.
The beneficiaries spoke to the King about their experience, especially in receiving rehabilitation by workers specialised in prosthetic limbs.
Cadres at the National Centre for the Rehabilitation of Amputees cooperate with medics to manufacture upper and lower limbs in addition to other devices that serve those with paralysis and scoliosis.
The centre's teams also contribute to training, rehabilitating and equipping the prosthetics workshop in the Gaza Strip.
RMS Director Brig. Gen. Khalaf Jader said the centre is the only facility in the region that introduced the "multi-movement" upper prosthetic limb, noting that the technology was brought to the facility under a Royal makruma in order to alleviate the suffering of injured servicemen.
Related Articles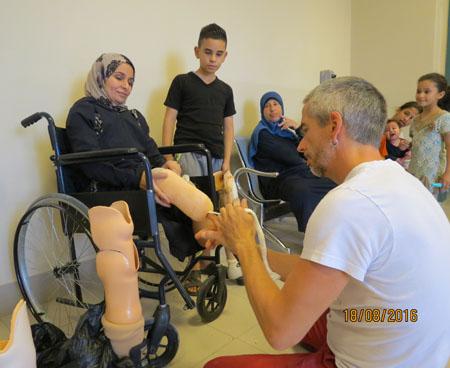 Aug 18,2016
AMMAN — Adnan Miqbel says his new prosthetic limbs are comfortable and he is looking forward to going back to school in them soon. The
Jul 04,2016
AMMAN — SwissLeg, a social enterprise based in Lugano, Switzerland, that develops "high-tech" prosthetic limbs for amputees, recently organi
Aug 04,2016
AMMAN — King's Military Adviser and Chairman of the Joint Chiefs-of-Staff Gen.
Newsletter
Get top stories and blog posts emailed to you each day.