You are here
King visits Expedia headquarters in Jordan
By JT - Dec 18,2017 - Last updated at Dec 18,2017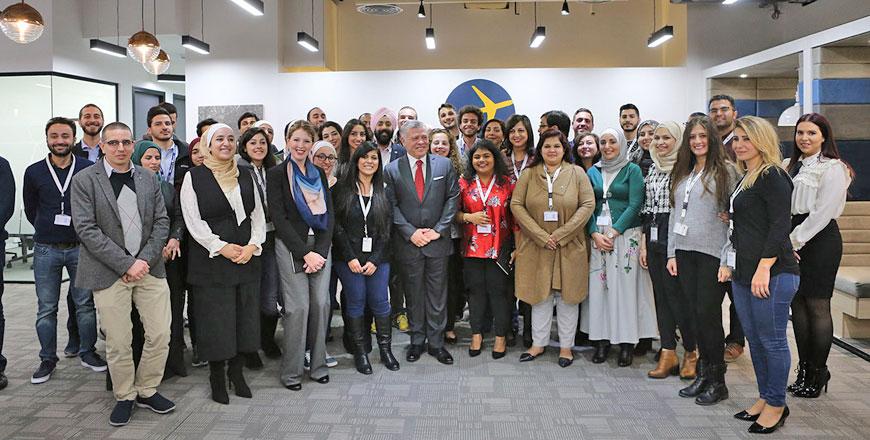 His Majesty King Abdullah poses for a group photo during a tour of Expedia Inc.'s headquarters in Amman on Sunday (Photo courtesy of Royal Court)
AMMAN — His Majesty King Abdullah on Sunday visited Expedia Inc.'s headquarters, which specialises in software development.
His Majesty was briefed on the company's operations in Amman by company's Director Aman Botani, about its future plans that would benefit from Jordan's skilled labour in the information and communication technology (ICT) sector, according to a Royal Court statement.
The King toured the company, opened last may, and checked its departments which are supervised by Jordanian youth.
King Abdullah was accompanied by Royal Court Chief Fayez Tarawneh and King Office Director Jafar Hassan.
Expedia is considered as one of the largest online travel companies in the world. It was founded in 1996 and has a team of 20,000 employees in over 30 countries.
At the world economic forum on the Middle East and North Africa 2017, which was held at the Dead Sea Last May, the company announced the opening of a software development office in Jordan, and hired Jordanian engineers in software development and other technological sectors.
The visit comes within the framework of supporting efforts to boost the investments in the ICT sector and enhance its competitiveness by attracting international companies to strengthen Jordan's position as a regional hub to export technological expertise.
The ICT sector contributes 12 per cent of the Kingdom's GDP, and it is considered a priority in the Economic Stimulation Plan for the years 2018-2022.
The company's director stressed that the advanced level achieved by Jordan in the ICT sector encouraged Expedia to open its office in the Kingdom.
up
67 users have voted, including you.
Related Articles
Jul 16,2017
AMMAN — His Majesty King Abdullah, accompanied by Her Majesty Queen Rania, has participated in the Sun Valley Economic Forum in Idaho, the U
May 21,2017
The Expedia group announced on Saturday the opening of a software development office in Amman.
Sep 01,2014
Information and Communications Technology (ICT) Minister Azzam Sleit and Indian Ambassador to Jordan Anil Trigunayat on Monday discussed ways to boost cooperation in the ICT sector.
Newsletter
Get top stories and blog posts emailed to you each day.