You are here
Kingdom has 'sufficient' supply of livestock for Eid — ministry
By Ahmed Bani Mustafa - Aug 23,2017 - Last updated at Aug 23,2017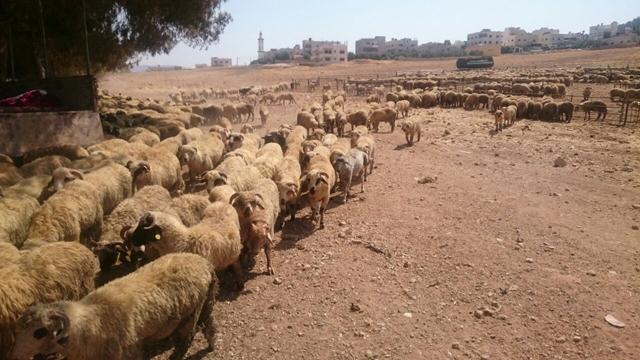 Some 380,000 local livestock are available and around 350,000 have been imported for Eid Al Adha, according to an official (Photo by Ahmed Bani Mustafa)
AMMAN — The Agriculture Ministry has finalised preparations for Eid Al Adha, a ministry official said on Wednesday, ensuring a "sufficient supply" of livestock for sacrifice during the upcoming Muslim feast.
Some 380,000 local livestock are available and around 350,000 have been imported, mostly from Romania, the Jordan News Agency, Petra reported, quoting Agriculture Minister Khaled Hneifat as saying on Wednesday.
Hneifat added that the imported livestock meets Jordanian health specifications and the religious standards for sacrifice.
The quantity of livestock available is "sufficient" to meet the local demand for Eid Al Adha, during which 400,000 animals are expected to be sacrificed, the official said, noting that the holiday would boost the livestock sector.
Goats, sheep, camels or cows are sacrificed as a ritual during Eid Al Adha, the feast of sacrifice marking the end of the pilgrimage season, and the meat is distributed to those in need.
This year, the ministry reduced the number of imported animals from 1.3 million to 700,000, according to the minister.
Hneifat said the decision was aimed at "safeguarding farmers from large companies, who would monopolise the trade".
Ghassan Jabiri, a trader, said that the decision has supported the local farmers and traders; however, it has raised the price of the imported livestock for clients, some of whom prefer the imported sheep.
A local sheep would cost JD240 to JD270, which is the same for those imported from Romania.
He commended the government's measure as it has "prevented companies from controlling the prices".
Another trader, who preferred to remain anonymous, said that some clients ask for "thanya", a goat in its second year, for the sacrifice, which is commonly used for breeding and milk production.
Mohammad Ajour, a resident, said that he bought a local sheep for JD260, which he said is JD20 less than last year.
He added that he would have been able to buy for less, if he had waited some extra days as prices drop approaching the holiday.
Related Articles
Aug 22,2016
AMMAN — The Agriculture Ministry has finalised preparations for Eid Al Adha, a ministry official said on Monday, adding that a sufficient su
Aug 16,2017
AMMAN — The Greater Amman Municipality (GAM) announced on Wednesday 12 locations across the capital for selling and slaughtering sheep ahead
Aug 31,2014
The ban on sheep imports from Romania will neither raise livestock prices in the local market nor create a shortage ahead of Eid Al Adha, a government official said on Sunday.
Newsletter
Get top stories and blog posts emailed to you each day.