You are here
Kingdom to roll out second dose of COVID vaccine from February 4
Over 160 cases of virus variant recorded in Kingdom — Obeidat
By JT - Jan 27,2021 - Last updated at Jan 27,2021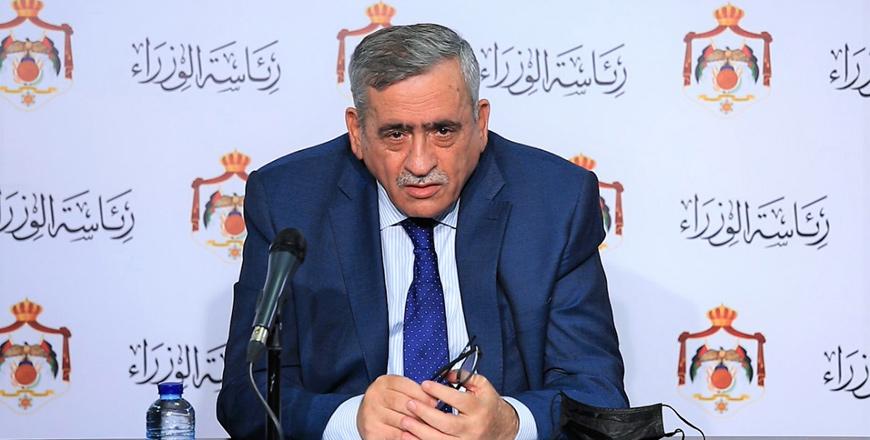 Health Minister Nathir Obeidat holds a press briefing at the Prime Ministry on Wednesday (Petra photo)
AMMAN — Jordan has been witnessing a continuous drop in the number of infections and deaths of COVID-19 for the ninth consecutive week, Health Minister Nathir Obeidat said on Wednesday.
During a press conference at the Prime Ministry to acquaint the public with the updates on the epidemiological situation in the Kingdom, Obeidat stressed the importance of maintaining the cleanliness of hands through washing them with soap, urging people to wear masks properly.
The minister said that the mutated virus does not change the severity and symptoms of the disease, yet the new strain might spread faster than the original virus.
In this regard, Obeidat said that the Kingdom has more than 160 cases of the new virus variant, stressing that "everything is under control" regarding the nationwide testing.
The minister noted that the Irbid field hospital is scheduled to open next week, adding that the nationwide vaccination campaign is going on as planned.
He also said that most Jordanians are still subject to contract the coronavirus, noting that more quantities of vaccines are expected to arrive in the Kingdom next week.
Also speaking at the presser, Wael Hayajneh, secretary general of the Health Ministry for epidemiological affairs and the official in charge of the COVID-19 crisis, expressed his gratitude for Jordanians and residents for adhering to wearing masks and observing physical distancing.
Hayajneh said that the ministry is planned to provide the second dose of the vaccine starting February 4.
He also noted that some 340,000 people have registered to receive the vaccine in the Kingdom, stressing a just distribution of the vaccine among Jordanians and residents.
The secretary general pointed out that all symptoms appearing after receiving the vaccines are "not dangerous".
up
29 users have voted, including you.
Newsletter
Get top stories and blog posts emailed to you each day.