You are here
Korea donates vehicles to facilitate IOM services for Syrian refugees
By Abeer Numan - Apr 11,2015 - Last updated at Apr 11,2015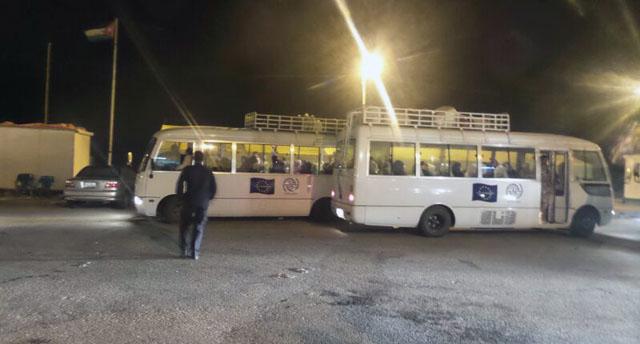 AMMAN — The Korean embassy has presented eight vehicles to the International Organisation for Migration (IOM) in Jordan to facilitate the provision of aid for Syrian refugees and host communities.
IOM Jordan suggested this form of assistance, Korean Ambassador to Jordan Choi Hong-ghi told The Jordan Times. South Korea will soon give another six vehicles to the Ministry of Health, including two ambulances, he added at the hand-over ceremony on Thursday.
"I am hopeful that this assistance can contribute to making the lives of Syrian refugees easier," the ambassador said.
"South Korea will continue with its efforts, in cooperation with the Kingdom and international humanitarian agencies, to alleviate the suffering of Syrian refugees and assist host communities," he said, noting that Seoul has been providing aid in two ways — assisting Jordan in implementing development projects and through humanitarian assistance.
"We have focused on areas we attach importance to, mainly providing shelters for the refugees."
South Korea provided 2,300 caravans, and assisted UNICEF out of its belief in the importance of education, to help Syrian students go to school, the diplomat said, adding that cash assistance was given to the UN World Food Programme last year for food vouchers.
During Thursday's event, UN Resident and Humanitarian Coordinator Edward Kallon told The Jordan Times that the agency was coordinating efforts and supporting the government through the Jordan Response Plan to address the impact of Syrian refugees.
He described the impact of the crisis, which has entered its fifth year, as "unprecedented" on Jordan's economy, highlighting the high cost of hosting refugees.
Border guards escort new arrivals to the town of Rweished, about 240km east of Amman, from where they are transferred in IOM-provided buses to the Ribaa Al Sarhan transit centre for registration. Then, in cooperation with concerned parties, IOM provides transportation for new arrivals to camps, according to IOM Jordan.
"The Korean-made vehicles, including five-double cabin pickups and two small buses and a larger one will enhance our capacity to provide better services to the people of Syria and the people of Jordan," IOM Chief of Mission in Jordan Davide Terzi said.
The organisation said it has transported 460,458 refugees from Ribaa Al Sarhan to the camps since the start of the crisis. Last year, it transported 82,989 refugees.
Zaatari at full capacity
In an interview with The Jordan Times, Terzi said the Zaatari Refugee Camp has reached its maximum capacity with around 83,500 refugees, so most new arrivals are taken to the Azraq Refugee Camp and the Emirati-Jordanian Mreijeb Al Fhoud Refugee Camp, which has doubled its capacity and can now accommodate 10,000 refugees.
"Zaatari is practically closed, except for some family re-unification cases, because it has reached its maximum capacity," he said.
Currently, the Azraq Refugee Camp houses 17,114 refugees while 5,300 Syrians live in the Mreijeb Al Fhoud camp, according to Terzi.
"The bulk of the refugees... are living within the community," he added.
Responding to a query on refugee movement after rebel forces captured the Nasib crossing, Terzi said it is "happening at a very slow pace that creates an accumulation of refugees in a no-man's land".
These refugees are being handled and "bit by bit, invited into the Kingdom", he added.
"Because of security concerns, screening procedures have been enhanced and this leads to a slower pace," Terzi said, noting that this is important for Jordan's security.
Wounded arrivals are given priority as well as pregnant women, he added.
IOM Jordan is also involved in a cross-border exercise, he noted, explaining that the organisation transports goods into southern and central Syria, in weekly 20-truck convoys.
IOM transports assistance from the WFP, UNHCR, UNICEF, UNFPA, WHO and the Saudi government, according to Terzi. "We are assisting them to donate food and non-food items."
The convoys are organised by IOM using Syrian trucks in close cooperation with the Jordanian and Syrian governments and all other concerned parties, the official added.
UN Security Council resolutions 2165 and 2191 allow for the delivery of humanitarian assistance through the Ramtha border crossing into Syria.
This has been going for at least eight months and will carry on till the end of this year, according to Terzi.
Related Articles
Feb 15,2014
More than three years into the Syrian crisis, refugees continue to trickle into Jordan on a daily basis, with an average of 300 border crossings every day, according to Davide Terzi, International Organisation for Migration (IOM) chief of mission to Jordan.
Jun 28,2014
The Interior Ministry has decided to transfer the residents of two makeshift camps in Khreibet Al Souq near the Central Vegetable Market to Ribaa Al Sarhan refugee registration centre, from where they will be taken to the Azraq, Mreijeb Al Fhoud or Zaatari camps, the ministry's spokesperson, Ziad Zu'bi, said on Friday.
Mar 10,2014
Interior Minister Hussein Majali on Monday visited Syrian refugee camps across the Kingdom.
Newsletter
Get top stories and blog posts emailed to you each day.