You are here
Labour Ministry launches Employment Data and Policies' Support in cooperation with GIZ
By JT - Jan 18,2022 - Last updated at Jan 18,2022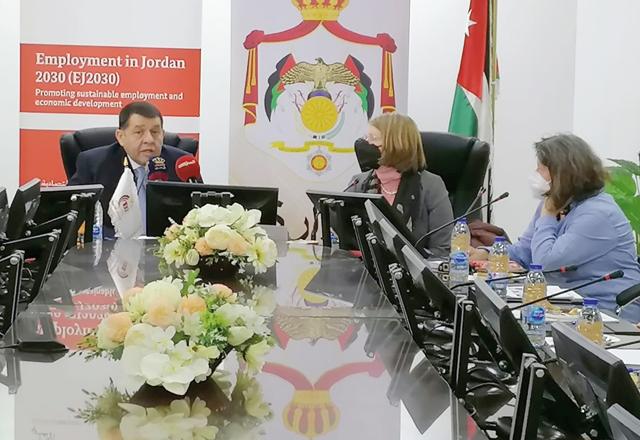 Labour Minister Nayef Stetieh speaks during the launch of a project in cooperation with the German Agency for International Cooperation on Tuesday (Photo courtesy of Labour Ministry)
AMMAN — The Ministry of Labour, in collaboration with the German Agency for International Cooperation (GIZ) on Tuesday launched the Employment Data and Policies' Support project.
Labour Minister Nayef Stetieh said that the main objective of the project was to support efforts of the Jordanian government to orient its employment policy towards social and economic development potentials, according to a Labour Ministry statement.
Kordula Mehlhart, head of German Development Cooperation at the German embassy, Elisabeth Girrbach, GIZ Jordan country director, representatives from the Ministry of Planning and International Cooperation, Jordan chambers of industry, commerce and the General Federation of Jordanian Trade Unions attended the event.
Stetieh said that through the project the ministry aims to improve its capacities in data analysis and policy development to tailor labour market policies more effectively towards the fast-growing sectors and relevant occupational profiles.
The minister also stressed that the project will help address the negative impact of the COVID-19 pandemic on the employment situation and adequately prepare the country for future challenges, particularly in light of the high unemployment rate where young people and women in particular are disproportionately affected.
Stetieh also expressed his appreciation for the long-term support from Germany.
Mehlhart welcomed the government's efforts to promote economic development and boost job creation under the Economic Work Priorities Programme 2021-2023.
She also commended the active role of the Ministry of Labour and the progress achieved through bilateral cooperation in the field of employment promotion, according to the statement.
The Employment Data and Policies' Support project will be implemented until May 2024 through the GIZ. The German contribution to the project commissioned by the German Federal Ministry for Economic Cooperation and Development (BMZ) amounts to 9 million euros, according to the statement.
Newsletter
Get top stories and blog posts emailed to you each day.