You are here
Lecture delves into digitising cultural heritage
By Saeb Rawashdeh - Oct 29,2019 - Last updated at Oct 29,2019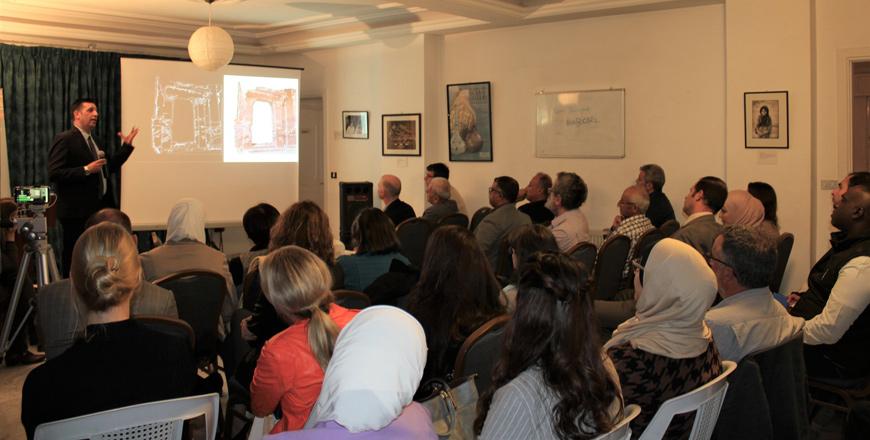 Dean of Queen Rania Faculty of Tourism and Heritage at Hashemite University Fadi Bala'awi  explains what is necessary for a successful digitalisation of Jordanian cultural sites on Monday at the CBRL (Photo courtesy of MaDiH)
AMMAN — A lecture titled "Mapping Digital Cultural Heritage in Jordan" (MaDiH), was held on Monday at the British Institute in Amman (CBRL).
UNESCO defines heritage as: "Our legacy from the past, what we live with today and what we pass on to future generations," noted Dean of the Queen Rania Faculty of Tourism and Heritage at Hashemite University Fadi Bala'awi at the lecture.
The lecture was a tribute to archaeologist Andrea De Silva Zerbini, who was a "driving force of MaDiH" and assistant director of CBRL before his untimely death in July, said director of CBRL Carol Palmer.
Cultural heritage is something that is conveyed from generation to generation because it is valued, said Bala'awi, adding that the digitalisation of existing artefacts as a means of preserving them has been "thoroughly studied" in the literature.
"All these studies encourage the fact that digitalisation is reliable as a form of protection and preservation of cultural heritage wealth," he outlined, noting that digitalisation can be seen as new tool for understanding, storing, presentation, conservation, accessibility and management.
"Digitalisation is at the heart of three main categories: Cultural resource management, tourism and conservation," Bala'awi said, adding that it gives a country a "clear" online profile, promotes regions, protects cultural diversity, contributes to better quality of life, boosts development of creative learning and can be used as an educational tool.
"When we thought of the MaDiH Project we were concerned about the need for it in Jordan, which is a digital cultural heritage centre," Bala'awi noted.
James Smithies, a director of King's Digital Lab and deputy director of eResearch at Kings College in London, said that digital technology has been used over the last 20 years and has experienced a "boom", despite not always being implemented well.
"MaDiH will contribute to the long-term sustainable development of Jordan's digital cultural heritage, identifying key systems, datasets, standards and policies, and aligning them to government digital infrastructure strategies and capabilities," Smithies said.
Assisting the Department of Antiquities in their planning processes and helping project development teams is key, Smithies noted.
Digitalisation in Jordan will mostly rely on the younger generation of experts that will emerge from Jordanian academic institutions, Smithies concluded.
Newsletter
Get top stories and blog posts emailed to you each day.