You are here
Local charity supports marginalised communities through sustainable projects
By Batool Ghaith - Jul 04,2022 - Last updated at Jul 04,2022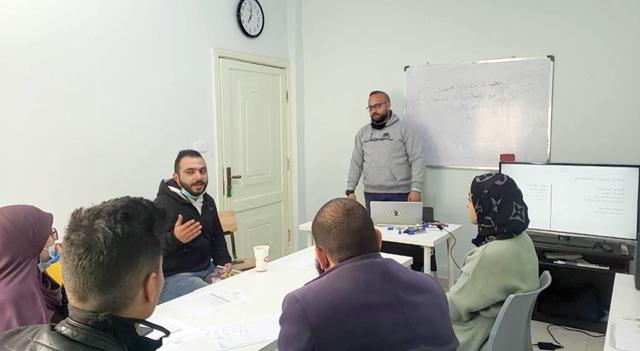 Participants during a training session by Dar Al Tamkeen, a Jordanian charity (Photo courtesy of Dar Al Tamkeen)
AMMAN — Dar Al Tamkeen, a Jordanian charity, aims to reduce poverty and unemployment rates alongside supporting self-sufficiency among underprivileged communities by offering developmental and innovative sustainable solutions.
Registered with the Ministry of Social Development in September 2020, Dar Al Tamkeen works on empowering individuals and communities with a practical and a programmatic framework based on strengthening partnerships with governmental institutions, community-based organisations and civil society institutions through participatory ideas and approaches, according to recent statement sent to The Jordan Times.
The statement said that the association has different programmes that help achieve its mission and vision through establishing sustainable projects.
It also offers professional capacity building and trains individuals in fields related to life coaching, technical trainings, providing charitable food and medical aid campaigns, paying off financial debts of individuals who are unable to recompense in the health sector. This helps pave the road for them to pursue their life and attain a suitable job, the statement said.
According to Anas Abu Khalaf, founder of Dar Al Tamkeen, DAR Projects, a part of the programme offered by the association that started in June, aims to train 15 people and have them employed by the end of the year.
"Two beneficiaries finished the training and got their licence this week and will start working after eid. Five more beneficiaries will start their training by the beginning of August," Abu Khalaf told The Jordan Times in a recent interview.
According to the founder, one beneficiary has taken a zero per cent interest loan to start his vegetable booth at the Greater Amman Municipality markets in different areas of Amman.
"We have recently started performing feasibility studies in Deir Alla, to implement an agricultural project in cooperation with Rawabi Farah, which will start in September," he said.
DAR has agreed to join their campaigns for the distribution of native seeds for many kinds of fruit, vegetables and wheat in all Jordan governorates, standing to increase the local production in the upcoming years and maintain food security needs of Jordanians.
The first campaign in mid-June covered more than 10,000 native seeds packages that were distributed to more than 2,000 farmers in the Karak governorate, the statement said.
The project will work on planting 10 dunums with lemons — 600 trees — in addition to planting onions and garlic in between trees with an estimated cost of JD13,000, added Abu Khalaf.
The DAR Skills programme offers a training session in presentation skills that 30 young people from Yarob Charitable Association in Nasr Camp attended, said Abu Khalaf, in addition to Data Collection and Community research training for 11 young people from the same camp.
According to Abu Khalaf, sanitation planning training using nature-based solutions for wastewater treatment plants in the Middle East was given in three sessions for Jordanian students from different universities.
"We are looking forward to start trainings related to micro-projects and business models soon, in cooperation with the SOS Children's Villages in Amman," he continued.
DAR Skills is based on providing a set of training programmes in various life and technical fields aimed at strengthening the capacities of eligible youth and target groups, read the statement.
DAR Aid provides campaigns that distribute food packages and living and medical aid on an ongoing basis, the statement said.
According to DAR, continuous campaigns have been launched to help debtors by paying the receipts of the indebted persons, such as in hospital. This facilitates the legal clearance making it easier for them to obtain employment, the charity said.
More than 180 beneficiaries got their legal clearance in 2022, the statement said.
Newsletter
Get top stories and blog posts emailed to you each day.