You are here
Locals tackle education challenge in two-day SDG 'innovation sprint'
Event part of 'Global Goals Jam' movement, that seeks to produce innovative local solutions to Sustainable Development Goals
By Camille Dupire - Sep 17,2017 - Last updated at Sep 17,2017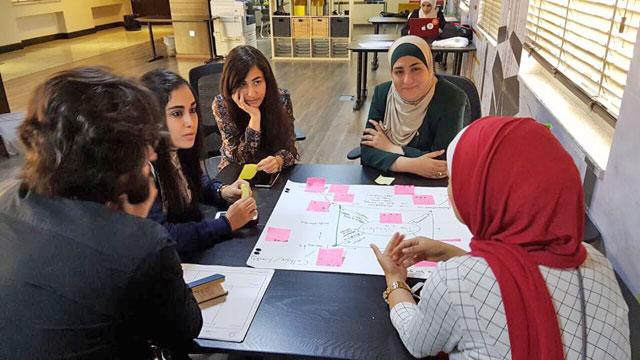 The two-day event sought to develop innovative approaches to help tackle challenges in education at a national level, according to its organisers (Photo courtesy of Global Shapers Amman Hub)
AMMAN — A collaborative innovation forum concluded on Saturday, with recommendations to advance the discussions towards achieving the Sustainable Development Goals (SDGs) in the Kingdom.
Organised by the Global Shapers Amman Hub, the two-day event sought to develop innovative approaches to help tackle challenges in education, the 4th SDG, at a national level.
"We chose to focus our event on Goal 4: Quality Education, because of its urgency in the local context," Hamza Arsbi, one of the trainers, told The Jordan Times on Saturday.
"Education is one of the hottest issues in Jordan and, as we move forward towards a world of technology, we need to learn how to enhance tolerance and diversity in education, while providing students with critical thinking and skills needed in the job market," Arsbi explained.
The only Global Goals Jam (GGJ) in the MENA region, Amman's event was run in parallel with 40 other cities worldwide, ranging from Rio deJaneiro, Accra, Copenhagen to London, Delhi and Fukuoka, among others, the GGJ website stated.
Seven creative teams of around five people were encouraged to work together using a tailored toolkit provided by the organisers to design interventions aimed at short-term local targets in support of the long-term global goals.
"We believe in the importance of sharing knowledge and building capacities to spark innovation," Nour Al Gharibeh, Curator of Global Shapers Amman Hub said.
Training professionals, teachers, academics, entrepreneurs, andyoung leaders from across the country took part in the event, which saw the participation of renowned professionals Curt Rhodes, founder of Questscope, Tech Tribes' creator, Khaled Hijab and Afnan Ali, founder of Eureka.
"We brought together people who really understand education and local challenges related to the sector," Gharibeh said, noting that, when dealing with the complex issue of education, a locally tailored approach is required.
Elaborated at the 2015 Social Good Summit, where 193 world leaders committed to achieving 17 SDGs by 2030, the GGJ was officially launched a year later in the presence of then-vice president Joe Biden, Alec Baldwin and John Kerry, according to the GGJ website.
The United Nations Development Programme and MediaLAB Amsterdam initiative seeks to design "realistic, actionable interventions" to implement these goals through interdisciplinary team work using design methods, the website added.
At the end of the GGJ, the outcomes will be presented as recommendations to the Ministry of Education, with plans to further collaborate on the sector's challenges.
"The Ministry of Education is under a lot of pressure, and we all need to do our part to help change happen," Arsbi, who is also the founder of "The Science League", an NGO promoting scientific education for all, noted.
All participating countries' recommendations will also be collected and curated by experts to be exhibited at EDIT, a design conference in Toronto. "This will be a great chance to represent our country within a global context, and to show the world that Jordan is full of resourceful people who strive to make a change," the duo concluded.
Related Articles
Apr 25,2017
AMMAN — Experts on Monday explored ways to apply the sustainable development goals (SDGs) to the local level, with a focus on water, energy
Sep 28,2015
AMMAN — Her Majesty Queen Rania on Sunday took part in a meeting to introduce the new UN-drafted Sustainable Development Goals (SDGs) to the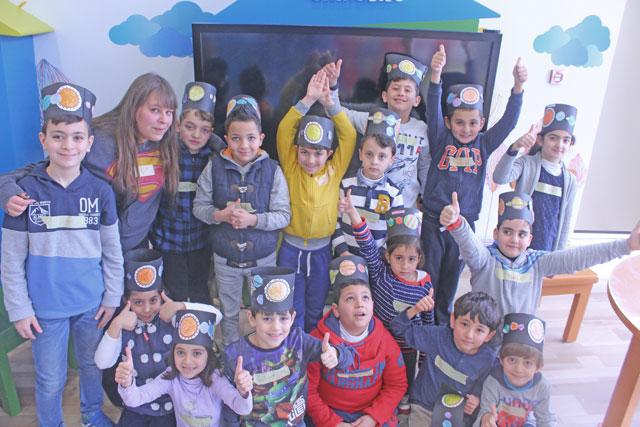 Jan 17,2018
AMMAN — "We created the Science League [SL] because we wanted to make everyone feel like they could be their own superheroes and come up wit
Newsletter
Get top stories and blog posts emailed to you each day.