You are here
Longing for lost homelands: young writers tackle themes of place, memory and nostalgia
By Suzanna Goussous - Feb 05,2017 - Last updated at Feb 05,2017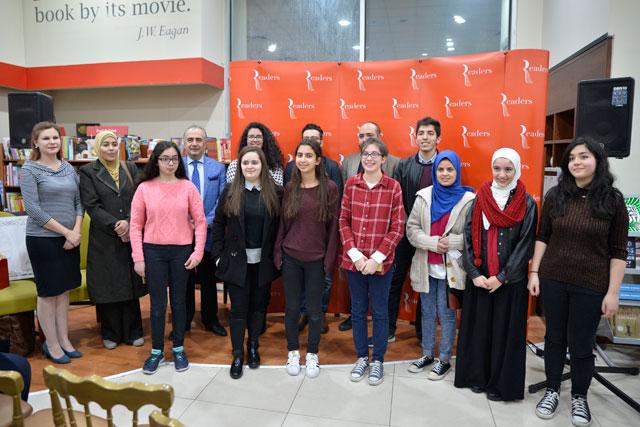 Winners of the third annual Writing Competition pose for a group photo in Amman on Saturday (Photo courtesy of ASDA'A and Readers Bookshop)
AMMAN — The beauty of literature lies in the potential of words and letters to powerfully evoke and bring to life people, memories or a sense of place.
For young writers, "literature helps build knowledge and makes [them] better human beings", organisers of a writing competition said on Saturday.
"Education and learning is a higher form of being. One who reads and knows is someone who can express [himself/herself] better in literature and in life," a member of the jury at the third annual Writing Competition, held at the Readers Bookshop in Amman, said.
Out of 62 submissions, 10 participants made it into the shortlist of best short stories, with three participants taking the top places.
Winning third place, Bushra Amayreh received JD150 for an Arabic short story; Shadia Abu Naim received JD250 in second place; and Jood Munther was awarded the JD400 first place prize.
Abu Naim said she got her inspiration from one of her favourite books, "Beloved" by Toni Morrison, adding that it took her five days to craft her short story, "The Garden".
"There's a quote about places and memories and how memories don't just exist in the minds of people; they also exist in the places where they happened," the 17-year-old said.
Her submission narrated a story of a garden that is haunted by memories of events that happened in that place, with a mother and daughter, Fatima and Maryam, living in a house next to the garden.
"It's about the strong hold that memory has on us and the importance of memory," the young writer added.
Place and nostalgia also featured as important themes in Munther's work, with her story of a Palestinian girl with an angel who helps her and gives her a broad view of Palestine, from the river to the sea, she said.
In her short story "The Land of Angels", two young lovers unite through their spiritual love for Palestine, free their land and rebuild the demolished houses with the help of their angels.
Munther said she came up with the plot and the scenes and wrote the story in three hours.
"In all of my work, even in Arabic, when I write something about Palestine, I use the name 'Watan' [homeland] for the main character… She is a character that talks to herself. It's basically how I round off everything in order to get my point across in a straightforward way," she added.
As part of the competition's jury, poet and former culture minister Jeryes Samawi said the key to becoming a good writer is to read.
"The younger generation can express themselves better than the older generation. This shows that we should pay attention to young talents on the cultural and artistic levels so that they use their talents correctly," he told The Jordan Times.
Samawi said that as the Arab world goes through hardships, it is important to promote literature and art, across different mediums, to combat extremism and regain a sense of balance.
From the American University of Madaba, Professor Akram Al Deek, another judge, said the panel did not restrict the works to certain themes, in order to keep the options open for competitors and young, emerging talents.
"We tried not to focus on the linguistic part of it. We made sure metaphors are there, the content is beautiful and that there is a flow to the story," he added.
Deek said he was impressed by the non-linear narration of most stories in the competition, which targeted young writers aged 13 to 17 years.
"I read some of them twice. I sensed talent, because some of the stories are all an allegory. Most of them were also nostalgic for a home," he told The Jordan Times.
"Literature makes you smarter, happier, more optimistic. It makes us have empathy; it makes you sympathise with others, because you read about so many characters and situations and you travel through different homelands of imagination," Deek added.
Related Articles
May 19,2016
AMMAN — Not so long ago it was common to hear that "the golden age" of Palestinian literature ended with Mahmoud Darwish, said Nora Parr, a
Oct 12,2014
Returning to her native country, Lebanon, after fifteen years spent in Australia and Kenya, gives Mariam final proof of her state of displacement and transience — always being on the verge of leaving (symbolised by thirteen suitcases kept on the ready in her Mombasa home).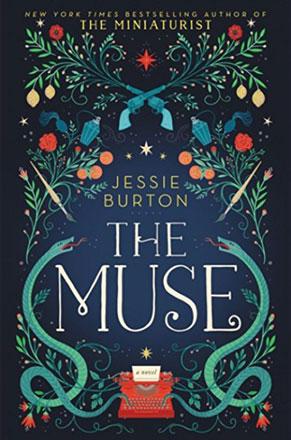 Nov 19,2017
The MuseJessie BurtonLondon: Picador, 2016Pp.
Newsletter
Get top stories and blog posts emailed to you each day.