You are here
Majority of Jordanians unwilling to pay for any news — survey
Media survey conducted by Northwestern University in Qatar highlights citizens' news habits
By Mohammad Ghazal - Sep 20,2017 - Last updated at Sep 20,2017
AMMAN — Jordanians, Lebanese and Tunisians get news more frequently from TV than online sources, while majority of Qataris, Saudis, and Emiratis turn to the Internet instead of the TV for news, according to the fifth annual survey of media use and public opinion by the Northwestern University in Qatar
Nationals of the above mentioned Arab states "hesitate" to pay for news content, the survey, a copy of which wase-mailed on Tuesday to The Jordan Times, indicated.
Around 74 per cent of Jordanians are unwilling to pay for any news be it digital, TV, newspapers, or magazines. In Lebanon, the proportion is 75 per cent, while in Qatar it is 71 per cent.
When asked about their favourite news organisation, majority of nationals in every nation except Saudi Arabia prefer a local news station based in their home country, according to the survey.
Over 75 per cent of these Arab nationals, including Jordanians get news on their phones and two-thirds do so at least once a day. Using smartphones for daily news checks comes after the decision to access news via TV.
In terms of Internet penetration, the survey showed that compared to five years ago, Internet penetration rose in all six countries surveyed and most dramatically in Jordan, Lebanon and Tunisia.
Smartphone ownership tracks closely with Internet use in the six surveyed countries. Nearly all nationals in Lebanon, Qatar, Saudi Arabia and the UAE own a smartphone compared with 83 per cent of Jordanians and 65 per cent of Tunisians.
The surveyed indicated that the use of Arabic online has increased proportionally with the increase in Internet users. In comparison, use of the Internet in English remains essentially flat, 25 per cent in 2013 and 28 per cent in 2017, despite the increase in Internet use.
Most nationals in the surveyed states still watch TV, but the rate declined modestly since 2013 (98 per cent in 2013 vs. 93 per cent in 2017). Rates of newspaper readership, however, declined more steeply from 47 per cent in 2013 to 25 per cent in 2017. Radio and magazines also declined in popularity since 2013 (radio: 59 per cent in 2013 vs 49 per cent in 2017; magazines: 26 per cent in 2013 vs 19 per cent in 2017).
Since 2013, perceptions of news credibility increased in most countries, but fell in Jordan and Saudi Arabia.
Two-thirds of nationals say they trust mass media from their own country compared to only half who trust media from other Arab or Western countries.
On most used social media platforms, the survey showed that the messenger application WhatsApp tops the list of social media used by nationals across the region with two-thirds of nationals in all of surveyed countries using it compared to a marginally lower rate for Facebook and only one-half using YouTube.
While stable in Lebanon, Facebook penetration declined across all other countries by at least 10 per cent since 2015.
Nearly three-quarters of Internet users across the region use Wi-Fi or mobile data services to connect to the Internet. However, Wi-Fi use varies by country from less than half of Jordanians to two-thirds of Tunisians and nine in 10 across the other nations (40 per cent in Jordan versus 63 per cent in Tunisia, 91 per cent in Lebanon, 87 per cent in Qatar, 84 per cent in KSA and 97 per cent in the UAE).
Just over half of nationals use news apps and just over one-quarter use them daily. Using news apps is most popular in Saudi Arabia and the UAE and least popular in Qatar. In Jordan, only 52 per cent use news apps.
With regard to privacy online, only one in five nationals say concerns about privacy have changed the way they use social media, ranging from three in 10 Jordanians and Emirates to half that among Lebanese.
The study explores patterns of news use, perceptions of news bias, and attitudes towards free speech in seven countries: Saudi Arabia, the UAE, Qatar, Lebanon, Jordan, Tunisia and Egypt. Some questions were replicated in the US for context and comparison.
The 2017 survey was conducted in collaboration with the Harris Poll in February and March of 2017. Findings reflect nationally representative samples of over 1000 respondents in each country, 7,196 in total. Interviews were conducted face-to-face in most countries, and by phone in Qatar. Because data from Egypt were collected later in the year (June and July), it is not included in region-wide figures reported here.
up
39 users have voted, including you.
Related Articles
Aug 29,2017
AMMAN — Nearly two-thirds (65 per cent) of employers in Jordan are planning to hire within the next year, the latest Middle East Job Index S
Feb 26,2014
Nine out of 10 people own cell phones in Jordan, which ranks third in engagement in social networking sites among Arab states, according to the 2013 Spring Pew Global Attitudes Survey.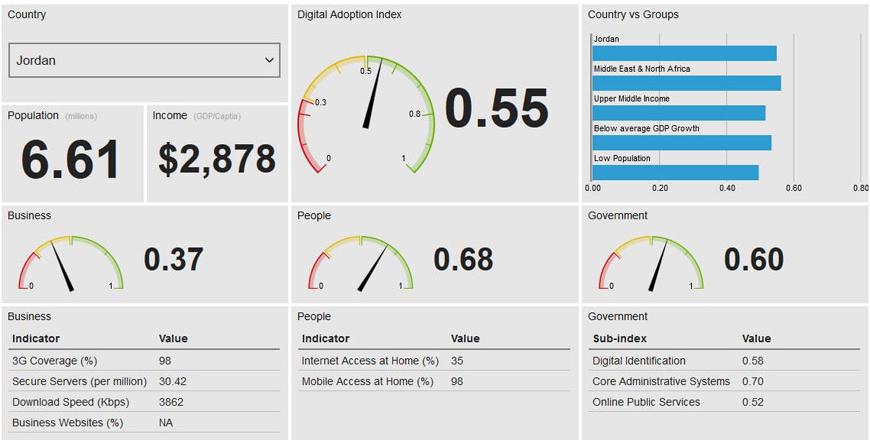 Jan 27,2016
AMMAN — Coverage of third generation (3G) mobile services in Jordan stands at 98 per cent, while 98 per cent of Jordanians have access to mo
Newsletter
Get top stories and blog posts emailed to you each day.