You are here
Malaysian minister returns to alma mater, receives honorary degree
By Maram Kayed - Apr 18,2019 - Last updated at Apr 18,2019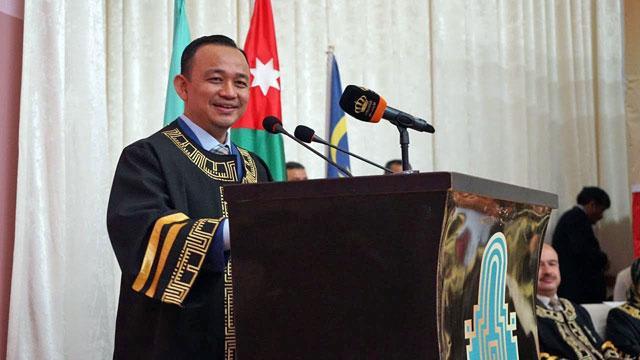 Malaysian Minister of Education Maszlee Bin Malik addresses an audience during a ceremony at Al al-Bayt University on Thursday (Photo courtesy of the Malaysian embassy in Amman)
AMMAN — Among Al al-Bayt University's first batch of graduates was Maszlee Bin Malik, now the Malaysian minister of education. Malik recently returned to Jordan to sign a memorandum of understanding with the Ministry of Education on Wednesday aimed at "opening new doors of cooperation".
He told The Jordan Times in an interview: "My experience in Jordan truly helped shape who I am today. I think students and professors in higher education should be offered the same chance at being exposed to different cultures."
According to the embassy's figures, there are currently 3,000 Jordanian students studying in Malaysia, most of whom are postgraduate students. In Jordan, there are about 836 Malaysian students studying at six universities.
"This memorandum came as an extension of many signed in the past. This time, however, we hope to enhance the benefit of both sides," the minister said.
The agreement included the exchange of students, researchers and lecturers through a joint degree programme between Jordanian and Malaysian universities, as well as an emphasis on academics related to the fourth industrial revolution.
"I think both countries need to focus on research related to the new industrial revolution as to foster their growth. Students and professors from both sides need to work as one in complete harmony to produce something beneficial for both sides," he added.
In a separate meeting on Wednesday with His Majesty King Abdullah, "mutual respect" was underlined by both sides.
Malik said: "His Majesty told me that not only is mutual respect between the Malaysian and Jordanian sides important for peace and prosperity, but for the whole Ummah. I think that was important to speak of at a time in which education has become somewhat robotic and detached from its values."
"We support His Majesty in his preach for mutual respect, a value we ourselves hold dear in education, at this time of increased racism and fundamentalism."
Feeling "indebted to Jordan", the minister returned to his alma mater on Thursday to receive an honorary doctorate degree.
"Much has changed since 1994. My time was here challenging but rewarding, and what I have noticed this time during my visit is that the Jordanian people look increasingly eager to learn. This degree is honorary for me but [it's] also for them; for their hard work and perseverance," he said.
Newsletter
Get top stories and blog posts emailed to you each day.