You are here
Manasati initiative boosts volunteerism by training youth to plan, manage projects
By Balqis Zeidan - Jan 14,2020 - Last updated at Jan 14,2020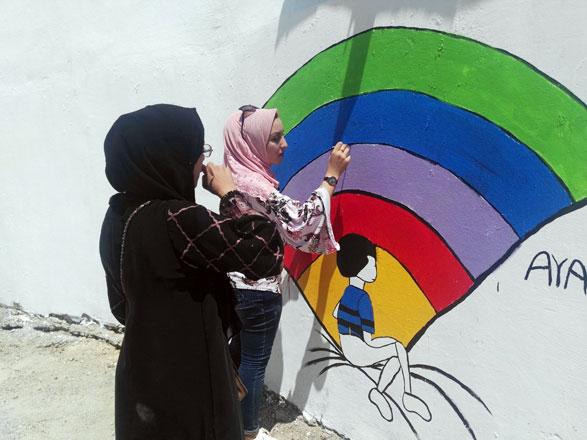 In cooperation with a number of associations and public and private schools, 30 mural artists have beautified 37 walls through Manasati's 'Colours' programme, according to initiative head Saif Otoum (Photo courtesy of Manasati Initiative)
AMMAN — In 2019, a group of 30 volunteers from Jerash designed an initiative in an attempt to saturate society with a culture of volunteerism, especially among youth. Today, "Manasati" has expanded to involve around 600 volunteers who have implemented 114 projects, according to the initiative's head.
Manasati's activities span the Kingdom, covering not only Jerash, but also Amman, Irbid and Zarqa, Saif Otoum recently told The Jordan Times, adding that it was launched in February 2019.
Otoum also noted that the initiative has various programmes and serves to enhance partnerships between different local community institutions.
"Let's play" is a Manasati programme that targets public and private school students. To date, 5,000 students have learned various life skills through playing techniques under the programme, Otoum added.
Over 40 volunteer activities have been conducted under the "Let's volunteer" programme, which encourages participants to establish volunteer campaigns in different fields including environment, health and education, he said.
In cooperation with a number of associations and public and private schools, 30 mural artists have beautified 37 walls through Manasati's "Colours" programme, the initiative head said.
He added that, to encourage the participation of all members of society in volunteer activities, the initiative has engaged 200 people with disabilities in volunteerism through its "Community integration" programme, while promoting an inclusive and encouraging volunteer environment.
Training 500 young people in community leadership, the "Youth empowerment" programme guides and motivates youth to volunteer by providing information about the duties, responsibilities and rights of volunteers through entertainment, he said.
It also helps participants build, manage, lead and plan their own volunteer teams and initiatives, Otoum added.
In January, Manasati will launch a broader empowerment programme together with the Nahno platform, providing workshops on volunteer work and community leadership. The trainers will pass on their knowledge and experience to 1,000 volunteers through the platform, according to the initiative head.
Manasati aspires to spread awareness of the importance of volunteerism as it develops not only individuals' skills and personalities, but also society itself, Otoum concluded.
Newsletter
Get top stories and blog posts emailed to you each day.