You are here
Media urged to seek expert opinion from women in all fields
By JT - Feb 16,2017 - Last updated at Feb 16,2017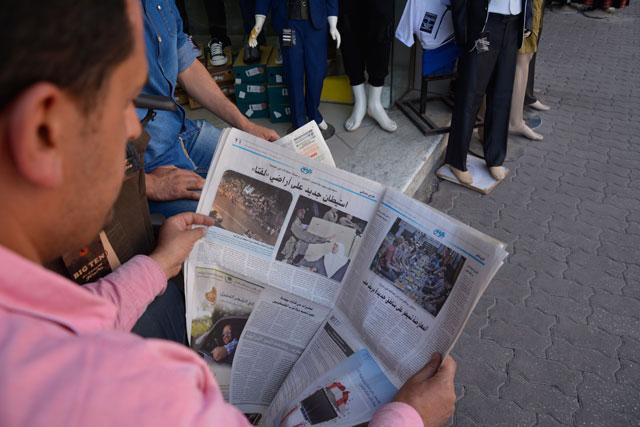 Al Rai Arabic daily has 28 opinion writers; three of whom are women, according to the Sisterhood Is Global Institute (Photo by Amjad Ghsoun)
AMMAN — A women's rights advocacy group called on Thursday for more media attention to female experts to ensure a gender-balanced coverage.
Reviewing columnists at Jordanian Arabic dailies — Al Rai, Ad-Dustour, Al Ghad and As Sabeel — the Sisterhood Is Global Institute (SIGI) said the number of female columnists is 8 out of 86, which constitutes only 9.3 per cent.
The names were obtained from the papers' websites, which do not reflect the exact number, SIGI said in a statement, however, it gives a general idea of women's participation in leading public opinion.
Among 20 writers at Al Ghad, there are two females, which is the same number at Ad-Dustour, but out of 23 writers, the statement said.
Al Rai has 28 writers; three of whom are women, while As Sabeel has one female columnist out of 15, according to SIGI.
The institute called on media outlets to work towards increasing women's representation, which will help change the stereotypes against women and empower them to participate in building their communities.
The absence of women as experts and columnists means the absence of half of society's opinions, said the statement.
SIGI argued that media attention to women and their issues tend to be seasonal, within the coverage of certain events that loses momentum as soon as these special circumstances end.
The institute called on media outlets to speak to female sources when seeking expert opinion in any field, noting that Jordan boasts a wealth of female experts in academia, medicine, engineering, law, diplomacy, legislation, art, business and social work.
"They [women] are in every field and in every place," SIGI added.
Related Articles
Sep 03,2016
AMMAN — The Jordan Media Institute (JMI) on Saturday issued its first report on Jordanian media outlets' coverage of the parliamentary elect
Feb 18,2017
AMMAN — Despite their success in the field of media, women in Jordan still represent a "tiny" proportion of decision makers and leaders in t
Jan 13,2016
AMMAN — Local print media outlets have given more coverage to human rights violations than electronic media, according to a report by the Jo
Newsletter
Get top stories and blog posts emailed to you each day.