You are here
Medicine and colonialism fused in Ottoman and Mandate Jerusalem — historian
By Saeb Rawashdeh - Mar 12,2017 - Last updated at Mar 12,2017
AMMAN — In the early 19th century, after Napoleon's brief invasion of Egypt and his attempts to push French armies towards Syria between 1788-1801, Jerusalem became a centre for medical attention in the southern Levant, according to a historian.
"By then, Jerusalem was not at the heart of Palestine's public health problems, but it provided a stage on which they could be shown and solutions could be presented to the general public in Palestine and beyond," said French historian Philippe Bourmaud.
Bourmaud was speaking at the lecture "Assessing Infectious Risks in Late Ottoman Jerusalem", held at the British Institute (BIA) in Amman last week, as a part of a joint series of lectures organised by the BIA and the Institut Français du Proche-Orient.
Bourmaud, an Istanbul-based historian specialised in the Ottoman and British Mandate-period Middle East, focuses on the history of the medical profession in the Ottoman Empire and the history of public health and social problems.
Jerusalem has long captured the global imagination through its association with biblical narratives of miraculous cures, he said, adding that "it offered a particularly high concentration of sanitary and medical institutions, a growing administration to organise health promotion, experts and social reformers, as well as venues for them to express their views to the public in the blooming press".
In spite of medical and educational foundations breaking away from traditional Ottoman medicine from the beginning of the 19th century, it was after the Crimean war in 1853-1856 that health reforms accelerated, he explained.
"Comparisons between the results of Ottoman, British and French military medicine, and cooperation between physicians, boosted the demands for new rules of practice and the territorial development of the Ottoman healthcare system", the historian said.
The Jerusalem municipality, founded in the 1860s, was one of half a dozen prototypical cities whose reformed municipal administrations expanded public services, including health.
Regarding infectious diseases, Bourmaud said they were viewed as hazards that straddled the city. Data, often gleamed from the reports of denominational hospitals and dispensaries, showed a hierarchy of communities based on levels of hygiene and health, he underlined.
"Starting in 1842, the founding of hospitals and dispensaries, and later on laboratories, multiplied until World War I," Bourmaud noted.
"This was a self-accelerating process, based not on consideration of public access to services, but of clientèle. European protector states provided healthcare, at first as a tool to further missionary activity and national influence," he said.
Yet, over time, beneficiary communities started to consider charity healthcare as a right, with some even threatening to switch their treatments to other, rival religious healthcare providers if services were not forthcoming, Bourmaud explained.
These institutions were also places where state-of-the-art medical equipment would be displayed and model medical services set up in order to attract new patients, the scholar added.
However, the second constitutional period of the Ottoman Empire, starting in 1908, marked a shift towards the development of inter-communal public health policy, Bourmaud underlined.
"Communal patterns of health policymaking potentially led to preferences for more intensified efforts to fight diseases that weighed more severely on migrants, or diseases whose etiology was linked with local poverty," Bourmaud said.
"Indeed, pieces on health soon became a recurrent feature in the Ottoman press, whether under the reformist influence of the Tanzimat or among the intellectual circles of the Arab Nahda; newspapers and journals opened their columns to physicians and let them give the readership increasingly specialised health advice," the historian explained.
The end of the Ottoman period, and especially the first few years of the British occupation of Jerusalem, saw the development of inter-communal cooperation between Jews and Arabs, though this was to change.
Bourmaud argued that health policymaking followed a colonial pattern of decision making, through a dialogue effectively confined to British authorities and the main Zionist medical organisations, especially Hadassah, which resulted in public health policies prioritising the concerns of Zionist settlers.
While Jerusalem remained the centre of Palestinian healthcare, the focus of public health shifted from medical institutions to ports and rural sites of infection that were pivotal in the process of Zionist colonisation of Palestine, Bourmaud emphasised.
"Yet, with the mandate," he continued, "Jerusalem offered two things that could trigger enhanced research: divergences over health policy priorities and expertise with transnational and global connections and a sense of the importance of public opinion."
Related Articles
Sep 17,2016
AMMAN — The head of the International Monetary Fund (IMF) on Friday urged donors to increase their support to Jordan and other countries to
May 25,2017
AMMAN — The Great Arab Revolt is the cornerstone of Jordan's political legitimacy, according to an Oxford University professor.During a&nbsp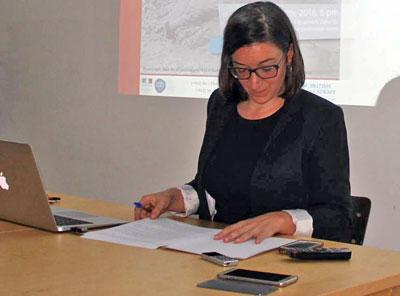 Oct 24,2016
AMMAN — Structural and institutional crises, wars, insurgencies and territorial losses, as well as restructuring and reform, characterised t
Newsletter
Get top stories and blog posts emailed to you each day.