You are here
Mexican embassy honours writer Juan Rulfo
By Ana V. Ibáñez Prieto - Oct 07,2017 - Last updated at Oct 07,2017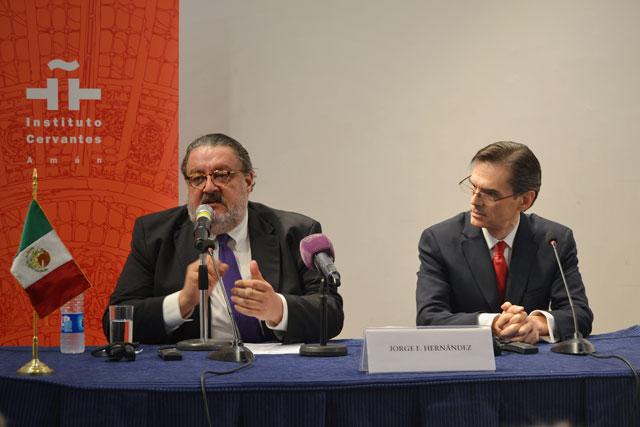 Historian Jorge F. Hernández (left) speaks during an event to honour Mexican writer Juan Rulfo on the centenary of his birth, in the presence of Mexican Ambassador to Jordan Enrique Rojo, at the embassy on Thursday (Photo by Ana V. Ibáñez Prieto)
AMMAN — The Mexican embassy on Thursday organised a conference in partnership with Cervantes Institute honouring Mexican writer Juan Rulfo on the centenary of his birth.
The conference was conducted by writer, journalist and historian Jorge F. Hernández, in the presence of the Mexican Ambassador to Jordan Enrique Rojo.
Juan Rulfo reached international recognition with the short story collection "El llano en llamas" (1953) and the novel "Pedro Páramo" (1955), becoming one of the main icons of 20th century's Hispano-american literature.
He was granted the National Literature Award of Mexico in 1970, and the Spanish Príncipe de Asturias de las Letras award in 1983.
Hernández started the conference by paying tribute to the victims of the recent earthquake in Mexico, saying: "In the light of the past events, it is the task of the writers to improve the mood of the nation by remembering the best of what Mexico has."
The speaker recalled the first time he met Rulfo, describing the event as "an epiphany" whereby the writer provided him with "the most invaluable gift" of teaching him how "life itself is above everything else".
An audience member raised the question of why Rulfo stopped writing after gaining international recognition, noting that people were "eager" to read more of his writing.
Hernández explained that "the stories he told are the ones he experienced during his childhood", noting how the writer suffered while crafting the stories "to the point he would rip entire pages".
The speaker praised Rulfo's work stating that "it's not easy to give a voice to the deceased, and to write about a Mexico that was disappearing at the time".
Mexican ambassador to Jordan Rojo joined the discussion asking Hernández about the efforts of translating "the profound sense of the metaphor" to other languages. The writer replied saying that "languages evolve and translations expire".
"The best translator is the one who actually engages with the culture of the text and fully understands it," he said, pointing out that the best translation so far, according to his own judgement, was the Chinese one.
Director of Cervantes Institute Álvaro Lázaro said that the centre considers Rulfo as "one of the most renowned writers in hispanic literature", noting that all his books are available in the centre's library along with his photographies.
Related Articles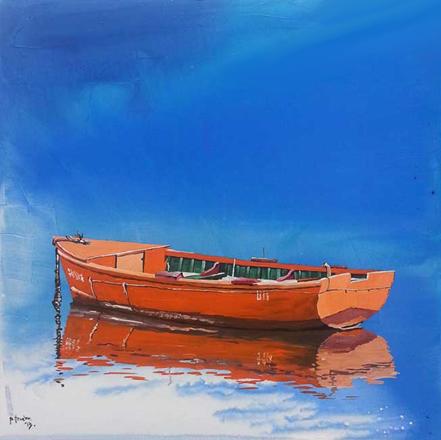 Feb 23,2016
Exhibited under the title "Energy and Transformation" at Instituto Cervantes, Mexican artist Pedro Trueba's works hold true to their promise
Nov 02,2017
AMMAN — The Mexican embassy in Amman celebrated its third "Day of the Dead" on Wednesday at the Cervantes Institute, bringing an age-old and
Jan 28,2015
The 43 Mexican students who disappeared four months ago were murdered on the orders of a drug cartel who mistook them for members of a rival gang, the government said on Tuesday, finally confirming the deaths of the trainee teachers.
Newsletter
Get top stories and blog posts emailed to you each day.