You are here
Minister announces tuition fee freeze at public universities
Public universities accept 35,825 students for 2016-2017 academic year
By Khetam Malkawi - Sep 04,2016 - Last updated at Sep 05,2016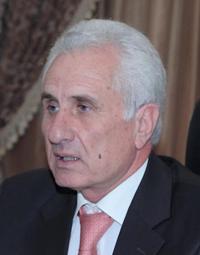 AMMAN — Tuition fees will not be raised at any public university this year, a government official said on Sunday, despite the financial struggles faced by some higher education institutions.
Tuition fees are under the authority of each university's board of trustees, but the rates will be frozen this year due to the difficult economic situation in the country, said Higher Education Minister Wajih Owais.
During a press conference at the ministry, Owais announced that public universities had accepted 35,825 students for the 2016-2017 academic year through the Unified Admissions List.
The Unified Admissions Committee allocated seats to students from underprivileged areas, based on local needs, the minister said.
Some 29 places to study medicine were awarded to students in underprivileged areas, even though their results in the General Secondary Education Certificate Examination (Tawjihi) were not high enough for some universities' requirements.
The aim is to encourage these students to return to serve their hometowns after graduation, the minister said.
The ministry will allocate up to 2,000 scholarships for students studying in Tafileh Technical University and Al Hussein Bin Talal University in Maan, to encourage students to enrol in these institutions, which are located in the south of Jordan, the minister added.
Due to financial difficulties, he noted, these universities are not able to improve their facilities, which has affected the number of students enrolling in them.
"Work is under way to improve facilities there," the minister told reporters.
Students whose scores were not high enough to meet the academic criteria for a subject can enrol instead in a parallel programme, at a higher cost.
The minister said this had led to low enrolment at some universities, as those studying under the parallel programme could choose which university to attend.
Some 20 per cent of public university seats were allocated to the children of military and security personnel, 5 per cent to the children of teachers, 5 per cent to those who took the Tawjihi in previous years and 5 per cent to Jordanians who completed their secondary education abroad.
Another 350 places were reserved for students from Palestinian refugee camps.
Lists of students accepted outside the Unified Admissions List will be announced soon, including 800 students who were accepted by universities directly, in subjects that require specific skills like fine art and architecture.
A list of 1,000 students who passed community college exams and have been accepted into universities will also be announced soon, the minister said.
Related Articles
Feb 19,2017
AMMAN — A total of 10,966 students have been accepted at public universities for the 2016-2017 spring semester, the Unified Admission Commit
Feb 18,2017
AMMAN — Unified Admission Committee (UAC) acting director Khawlah Awad on Saturday said the names of students who have been accepted at publ
Aug 17,2017
AMMAN — Some 29,000 out of 32,000 eligible students have so far applied to public universities through the Unified Admissions List, while th
Newsletter
Get top stories and blog posts emailed to you each day.