You are here
Ministry building new education strategy on 'culture of excellence'
By Sawsan Tabazah - Oct 28,2017 - Last updated at Oct 28,2017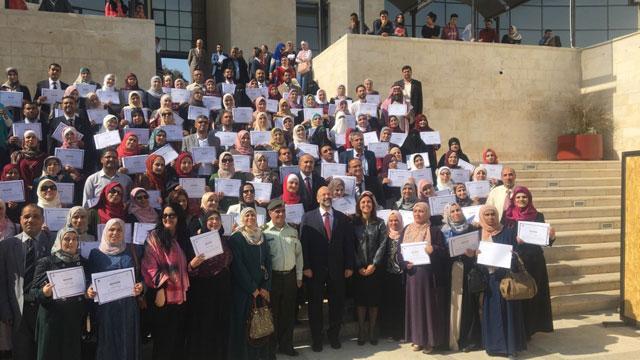 Education Minister Omar Razzaz poses for a group photo with teachers and principals who were awarded with appreciation certificates on Saturday (Photo by Sawsan Tabazah)
AMMAN — The Ministry of Education will adopt the criteria of The Queen Rania Award for Excellence in Education (QRAEE) in the currently developing teaching strategy, Education Minister Omar Razzaz said on Saturday.
The career path strategy that aims to enhance career growth will adapt the award's criteria of innovation and excellence to become part of the ministry's culture, especially in providing qualitative education to all students around the Kingdom, which is still a challenge for the ministry, Razzaz added.
The minister's remarks came during a ceremony to honour 113 teachers and 23 school principals from across the Kingdom, where they were awarded certificates of appreciation within advanced stages of QRAEE 2017.
QRAEE is based on criteria that shape innovation and excellence in education through effective teaching and instruction, life-long learning, sustainable professional and self-development, creativity and innovation, work ethic and achievements.
The award which was established in 2005, recently started honouring teachers in order to motivate them, Chief Executive Officer of the Queen Rania Award Association Lubna Touqan told The Jordan Times at the ceremony.
Among the awardees, 50 teachers and 20 principals have already reached the award's final stages. Once field visits and interviews are over, winners will be announced and honoured in a ceremony under the patronage of Her Majesty Queen Rania in December, Tuoqan said.
One of the nominees, Rana Qasem, a science teacher to deaf children, said that her love for her students was her motivation to learn sign language for helping them and communicating with them.
"I am ready to take part in any programme or training that will enhance my skills to help my students," Qasem, the teacher at Amal high school for the hearing-impaired, said.
Feedback from the award's interim process showed that 46 per cent of the applicants have adapted the award's innovation criterion in their work, 85 per cent learned time management and documentation skills, 50 per cent enhanced their teaching skills and 57 per cent improved their personal skills.
Faten Amer, an awardee from Zarqa First Directorate of students with learning difficulty, said that she has learned leadership skills by applying some of the criteria of the award in her daily work.
Touqan said that award winners from the previous years have established their first project called "My Prettier Environment", which paved the way for a healthy, beautiful and clean school.
"The project will instill in the student values of responsibility as [active] partner in the project," she noted.
The project founders, along with the involved association, have created a step-by-step guide book to help teachers apply the project model in various schools.
The Ministry of Education will be piloting the project in a few schools to measure its feasibility for adaptation across the Kingdom, she concluded.
Related Articles
Jan 15,2017
AMMAN — Her Majesty Queen Rania chaired the Queen Rania Award for Excellence in Education (QRAEE) board of trustees' annual meeting on Sunda
Jan 25,2016
AMMAN — Her Majesty Queen Rania on Monday met with board members of the Queen Rania Award for Excellence in Education (QRAEE) and discussed
Dec 11,2017
AMMAN — Deputising for Her Majesty Queen Rania, Education Minister Omar Razzaz on Monday honoured the winners of the 2017 Queen Rania Award