You are here
Ministry facilitates jobs in GCC countries for Jordanians
By Omar Obeidat - Apr 03,2016 - Last updated at Apr 03,2016
AMMAN – The Labour Ministry has recently started to announce job vacancies available for Jordanians in Gulf countries.
The ministry posts available job opportunities on its website and also sends press statements to daily newspapers listing vacancies for Jordanian engineers, teachers, university instructors, accountants and professionals in various fields.
Mohammad Khatib, the ministry's spokesperson, told The Jordan Times that there are labour attachés at five Jordanian embassies in the Gulf — Saudi Arabia, Qatar, Oman, Kuwait and the United Arab Emirates — who coordinate with authorities in these countries to compile the available jobs.
Khatib said the efforts by the ministry do not clash with the interests of private recruitment agencies in Jordan that mainly deal with the Gulf job market.
"We work as a link between authorities in the Gulf and job seekers here," Khatib said, adding that the ministry runs the announcement with contact details of recruiters.
"Recruiters in the Gulf or their agents [Jordanian agencies] in Jordan receive the resumes of job seekers and do the interviews," he added.
The official said the announcement for jobs abroad, which has been going on for the last few months, is part of the ministry's efforts to reduce unemployment among Jordanian professionals, noting that hundreds of vacancies have been promoted recently.
Related Articles
Aug 04,2018
AMMAN — A total of 118,000 Jordanians have applied for jobs in Qatar through the Jordanian-Qatari job website: www.jqpee.jo by Saturday morn
Jan 11,2014
The Ministry of Labour is scheduled to launch a job fair on Monday to offer over 1,400 employment opportunities for job seekers in various sectors.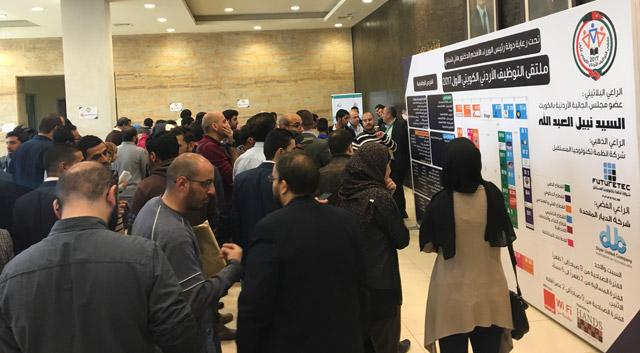 Apr 18,2017
AMMAN — Around 15,000 Jordanian job seekers attended the Jordanian-Kuwaiti Employment Forum which concluded on Monday in Amman.The forum off
Newsletter
Get top stories and blog posts emailed to you each day.