You are here
Ministry purchases two drones to monitor environmental violations
By Hana Namrouqa - Jul 19,2017 - Last updated at Jul 19,2017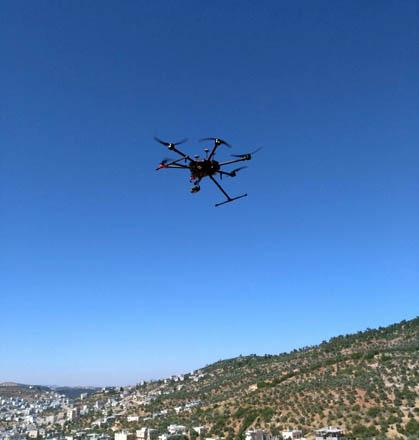 The Ministry of Environment has purchased two drones to monitor environmental violations in industrial zones, parks and forests, according to a senior government official (Photo courtesy of the Ministry of Environment)
AMMAN — The Ministry of Environment has purchased two drones to monitor environmental violations in industrial zones, parks and forests, according to a senior government official.
''The ministry is introducing aerial surveillance to achieve stricter monitoring over industrial and vocational facilities, parks and forests and to improve the state of the environment,'' Minister of Environment Yaseen Khayyat said.
The ministry and its partners have completed all the arrangements to release the two drones, including defining the locations and areas which the two drones will be covering, Khayyat said, noting that the Royal Rangers Department will be in charge of operating the drones and providing the ministry with data and photos.
Based on the photos and data, the ministry will mobilise its teams to enforce the new Environment Protection Law, Kayyat underscored.
"In addition to monitoring forests and parks to uncover illegal logging, the drones will also fly over environmental hotspots such as Sahab, Zarqa, Duleil as well as industrial and qualified zones to monitor pollution and violations," Khayyat told The Jordan Times.
The purchase of the two drones, which cost JD60,000, was financed through the ministry's Environment Protection Fund, according to the ministry's spokesperson Issa Shboul.
Khayyat also noted that the ministry is deploying modern technologies as part of its efforts to curb environmental violations.
On Monday, the ministry signed an agreement with the Ministry of Transport, under which all of the country's septic tankers will be equipped with an electronic tracking system to prevent random dumping of wastewater.
A total of 700 septic tankers will be equipped with tracking devices that monitor the vehicles' municipal wastewater discharge points with the aim of putting an end to the "prevailing randomness in unloading municipal wastewater", according to the Ministry of Environment.
Related Articles
Jul 18,2017
AMMAN — Work is now under way to instal electronic tracking systems on all of the country's septic tankers to prevent random dumping of wast
Apr 18,2017
AMMAN — All of the country's septic tankers will be installed with tracking devices by the start of summer to monitor trucks' discharge poin
Jun 26,2018
AMMAN — The Ministry of Environment on Sunday announced the start of the electronic tracking of tankers carrying wastewater project in the K
Newsletter
Get top stories and blog posts emailed to you each day.