You are here
Ministry, USAID launch Water Governance Activity project
By JT - Nov 30,2021 - Last updated at Nov 30,2021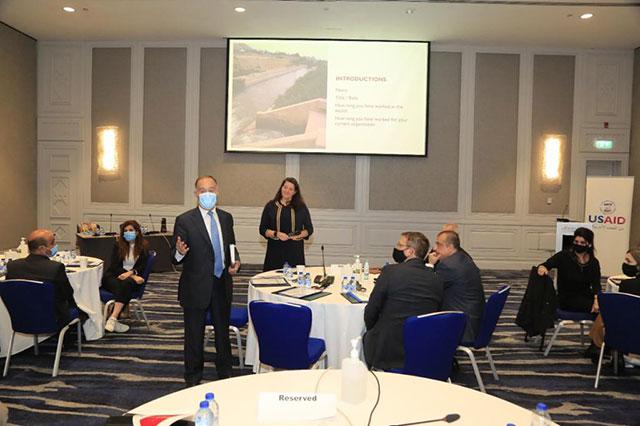 Water Minister Mohammad Najjar Water Minister Mohammad Najjar speaks during the launch of the USAID-funded Water Governance Activity project on Monday (Photo courtesy of Water Ministry)
AMMAN — The Water Ministry, the Water Authority of Jordan and USAID on Sunday launched the USAID-funded Water Governance Activity project (WGA).
Water Minister Mohammad Najjar stressed that water challenges are increasing due to higher demands, noting that the water sector administration is beginning to review and modernise strategies to match challenges, such as climate change, to improve the water supply, according to a ministry statement.
Najjar also highlighted the importance of coordination among all stakeholders to agree on priorities and needs to reach practical programmes that reflect on improving performance and water sector governance.
Head of USAID Office of Water Resources and Environment Andrew Lecken stressed the agency's commitment to support the water sector, realise water security, and face various challenges emerging from hosting refugees through effective partnerships with sector institutions to enhance water planning and administration.
The WGA director reviewed the project's goals that seek to continue helping the water sector realise sustainable development through providing technical support for launching institutional reform, developing strategies and public policies for the water sector and building the capacity of employees in the sector.
The project also aims to improve water entities' performance by reducing losses, increasing conveyance efficiencies, and improving utility cost recovery.
The implementation period of the WGA is five years, between August 6, 2021 and August 5, 2026, as the project seeks to engage local universities and research centres in water sector governance, in addition to enhancing women's participation.
Newsletter
Get top stories and blog posts emailed to you each day.