You are here
Misunderstanding of region, Islam mars global anti-terror fight — King
By JT - Sep 26,2016 - Last updated at Sep 26,2016
His Majesty King Abdullah speaks to Scott Pelley of CBS' '60 Minutes' during a recent interview (Photo courtesy of Royal Court)
AMMAN — His Majesty King Abdullah has said that "misunderstanding" of Islam and the region among Western allies and communities has impeded progress in the anti-terror war and global cooperation.
In an interview by Scott Pelley for CBS' "60 Minutes", broadcast Sunday evening, His Majesty cited different forms of misunderstanding exhibited by Western officials, think tanks and the media.
On the anti-terror war, His Majesty said the challenge over the past several years is that partners in the anti-terrorism war have been adopting a piecemeal approach instead of a comprehensive strategy.
"People look at, you know, is it Iraq this year or Syria next year? Well, what about Libya? What about Boko Haram or Al Shabab in Africa? We have to look at it from a global perspective."
He cited the example of military successes in Syria and Iraq against Daesh, whose leaders "are telling their fighters…, Don't come to Syria or Iraq," or moving their command structure to Libya.
"We've got to get ahead of the curve because they're reacting much quicker than we are," His Majesty said.
Explaining further, King Abdullah said the problem with the West is that "they see a border between Syria and Iraq. Daesh does not. And this has been a frustration, I think, for a few of us in this area with our Western coalition partners, for several years. You know, the lawyers get into the act and say: 'But there's an international border.' And we say: 'For God's sake, ISIS [Daesh] doesn't work that way.' So if you're looking at it and want to play the game by your rules, knowing that the enemy doesn't, we're not going to win this".
On Jordan's own fight with Daesh, His Majesty said that the execution of convicted terrorists after the group's killing of pilot Muath Kasasbeh early last year was meant to send a message that "there was no messing around with Jordan", announcing that "quite a lot" of those that were involved in killing Muath and those that were responsible for detaining him and processing him through his captivity have been taken down since.
Citing another form of misunderstanding with allies, the King, commenting on US presidents George Bush Sr and George Bush Jr ignoring advice from King Hussein and King Abdullah respectively regarding Iraq, he said the two seemed to "understand us better than we know each other. And as a result you can see the train on the track coming to the wreck".
On the need for the West to better understand the region, the King said that the ethnic makeup of the region is "pretty glaringly obvious for us that live in the region [but] advisers and think tanks in the West seem to know us better than we supposedly know ourselves".
He gave the Syrian crisis as an example, when it started, he said, everybody was saying six months.
"I said: 'Look, you know, if you're saying six months, I'm saying six years.' We're in for the long haul, not only in Syria and Iraq, but for the whole region and for the world, unfortunately."
In light of such better understanding, coalition forces fighting terrorist groups in Syria should serve as enablers , because "at the end of the day, you can't have Western troops walking down the streets of Syrian cities and villages. At the end of the day, you need the Syrians to be able to do that".
Islamophobia is another striking example of misunderstanding the region's culture in the West highlighted by King Abdullah in the CBS interview.
If pushed into the corner with Islamophobia, Muslims are going to feel isolated, victimised and marginalised, he said. This is exactly what Daesh and Al Qaeda want, he warned.
He explained the difference between the sweeping majority of Muslims who reject violence and extremists who tend to label even Muslims as heretics.
"If you look at the spectrum and understand that 90 per cent of us are traditionalists and have an affinity for Christianity, Judaism, I mean we're all the three monotheistic religions, us being the younger one, and that our faith decrees the understanding of Judaism and Christianity, then we understand where we all are. It's that misperception with the takfiri jihadists, that's where the fight is. And they represent probably 2 per cent of Sunni Islam. That's where the problem is. And if we're being pushed into the corner through Islamophobia, that's where the danger is, where we as allies, are not understood."
King Abdullah outlined the impact of the refugee crisis on Jordan. He said Jordanians reached the breaking point one or two years ago.
"We're now at 20 per cent increase of our population. And [due to] the huge burden on our country we're in dire straits… Our health sector is saturated. Our schools are really going through difficult times. It's extremely, extremely difficult. And Jordanians have just had it up to here. I mean, we just can't take it anymore".
Besides, he warned, "if radicalisation is going to embed itself anywhere in the world or in this region it's going to be disenfranchised youth. And so if young people in this country are not going to have an opportunity because of the pressure on the economy again, that's my concern". Therefore, he said, the world has a stake in helping Jordan's economy.
"I believe the world has a stake in the Jordanian economy, because we are the success story of stability in the region. If there wasn't a Jordan, we would have had to have created one. So I think the story of Jordan is bigger than the borders of our country".
Related Articles
Feb 14,2018
Following is the full text of His Majesty King Abdullah's interview with Mikhail Gusman for TASS News Agency/Russia-24 Television released o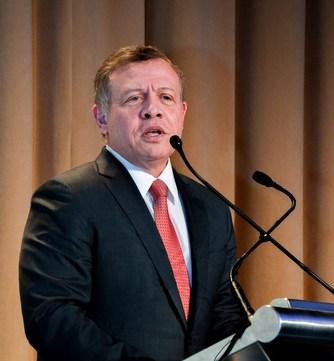 Feb 03,2017
AMMAN — His Majesty King Abdullah on Thursday called for renewing "our global neighbourhood", focusing on "what unites us, not what divides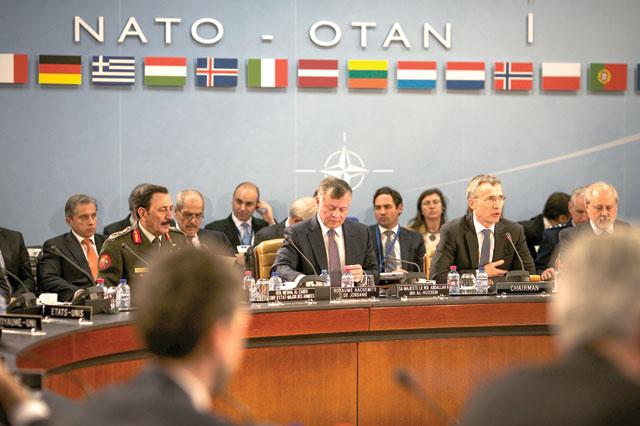 Mar 09,2015
His Majesty King Abdullah met on Monday NATO Secretary General Jens Stoltenberg and members of the alliance in Brussels to discuss bilateral relations, especially in relation to anti-terrorism efforts, according to a Royal Court statement.
Newsletter
Get top stories and blog posts emailed to you each day.