You are here
Monarch directs gov't to accelerate public sector reforms
Mulki outlines achievements, obstacles and plans in the pipeline
By JT - Jan 17,2018 - Last updated at Jan 17,2018
AMMAN — His Majesty King Abdullah on Wednesday was acquainted on progress made in plans and measures undertaken by the government to reform the public sector, including the e-government project, and future steps in that regard.
During a meeting with concerned officials, the King urged accelerated implementation of the plans in question with no delay, stressing the public sector reform is a priority at this stage, according to a Royal Court statement.
The government, His Majesty said, should ensure that its objectives are well defined and measurable as it tackles the mission and that the effort is aptly coordinated so that all ministries and civil administration agencies are fully committed to the programme at all levels. In this context, he underlined the significance of evaluation as a continuous process that involves holding officials accountable in accordance with the assessment benchmarks set.
Prime Minister Hani Mulki outlined the measures and plans the government is carrying out as part of the makeover, which, he said, is aimed at moving from bureaucracy to a new level where service provision is more effective and rendering the public sector agile, transparent and more capable of serving citizens. He also went over the major obstacles hindering the reform process.
Mulki also summed up the modifications made to the Civil Service Bylaw to advance the performance of government departments and putting in place an incentives system in accordance with "genuine evaluation criteria", under which the excelling officials would be rewarded and the underperforming one punished.
He noted that that a rehabilitation and training programme targeting top civil servants would be launched within the coming months, while a unit at the Prime Ministry that oversees civil service performance would be activated.
The premier added that the government seeks to attract the best-qualified persons to take over top posts, while experts are currently working on upgrading civil administration systems to enhance their effectiveness.
For her part, Minister of Information and Communication Technology Majd Shweikeh said that as the government continues to complete the e-government project, it has established partnerships between the public and private sectors.
She noted that 33 government services were automated last year, while it is planned that 158 others will follow this year, 159 the following year and 293 in 2020.
Related Articles
May 31,2017
AMMAN — His Majesty King Abdullah on Wednesday said that those who hinder plans to improve the performance of the public sector and other ec
Oct 24,2017
AMMAN — The Cabinet on Sunday, in a session chaired by Prime Minister Hani Mulki, approved in principle the instructions governing the onlin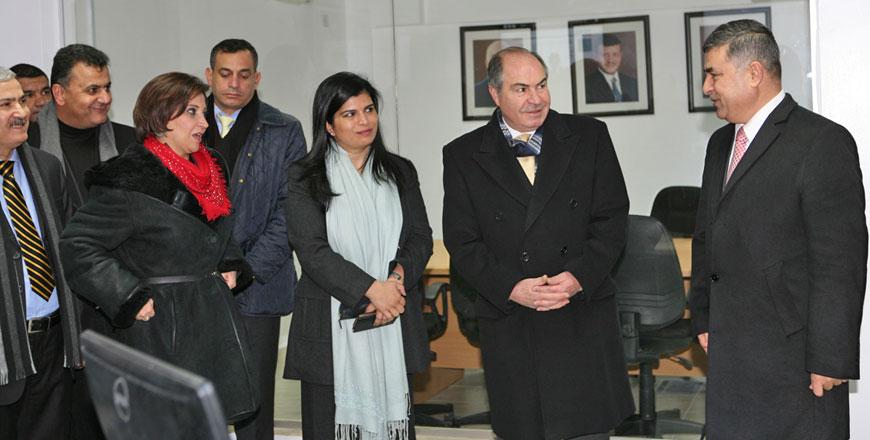 Dec 14,2016
AMMAN — Although 122 e-government services were launched in the first phase of service automation in the period 2015-2016, few people have b
Newsletter
Get top stories and blog posts emailed to you each day.