You are here
'Most drugs seized in Jordan destined for neighbouring countries'
By Rana Husseini - Aug 23,2016 - Last updated at Aug 23,2016
AMMAN — Ninety-five per cent of the illicit drugs smuggled into the Kingdom are destined for neighbouring countries, Anti-Narcotics Department (AND) Director Brig. Gen. Anwar Tarawneh said on Monday.
"The majority of the illegal narcotics that are smuggled into the country are destined for neighbouring countries and I can say the situation is under control in Jordan," Tarawneh said.
Tarawneh's remarks were made during a meeting with journalists to discuss the media's role in combating illicit drugs and raising awareness about the dangers of drug use and trafficking.
He said that his department had managed to "eliminate the planting of illegal narcotics in various parts of the Kingdom".
"We have our special tools to combat the planting of marijuana in Jordan. We have eliminated 95 per cent of these farms in Jordan and we will not allow any more cultivation of this dangerous substance," Tarawneh stressed.
"Unfortunately, some media outlets tend to exaggerate drug trafficking and the number of users in Jordan or publish material that unintentionally promotes the use of drugs, and that is why we are meeting today.
"We need to work on issuing the right message to combat the issue, not spread it," Tarawneh told reporters.
He said AND works through several ways to combat illicit drug trafficking, using Xrays at border crossing points and K9 Units to detect illegal shipments as well as aerial surveillance.
Other methods, according to the officer, include holding lectures at schools, universities and clubs, and using all types of media and drama work to raise awareness about illicit drugs.
Tarawneh also referred to the Substance Abuse Treatment Centre (SATC) affiliated with the AND, where 788 people were treated in the first eight months of 2016 and 1,216 received treatment in 2015.
The AND official said that since the beginning of the year, his department dealt with 8,656 illicit drug cases, including 7,504 for possession and dealing and 1,152 for trafficking.
In 2015, the AND handled 11,062 illicit drug cases, including 10,080 for possession and dealing and 982 for trafficking.
Meanwhile, some 13,143 people have been arrested on drug charges so far this year, including 11,710 Jordanians.
In 2015, a total of 15,691 people were arrested, including 13,899 Jordanians, for related charges, he said.
Of those arrested on drugs charges this year, 704 were university students, including 587 Jordanians, while 879 university students were arrested in 2015, of whom 718 were Jordanians.
Tarawneh pointed out that the number of drug seizures and drug trafficking cases are expected to drop next year because stiffer penalties have been introduced "which will hopefully act as a deterrent".
At the press briefing, Deputy Police Chief Brig. Gen. Dawood Hakouz said the Public Security Department is keen to combat drug abuse and drug trafficking "with the latest technology available".
At the end of the one-day meeting, journalists drafted several recommendations to combat drug trafficking and raise awareness about its dangers to society.
Participants stressed the need for constant cooperation and communication between the AND and the media in Jordan.
They also called on the AND to provide the media with the latest statistics and any related information to the drug problem in Jordan.
Reporters recommended organising regular visits to the SATC to learn more about its duties and to meet with patients to share their stories.
Similar meetings and lectures should be held in the governorates, the journalists proposed.
Anti-narcotics stats for 2015
| | | |
| --- | --- | --- |
| Substance | 2015 | 2016 (until August 22) |
| Hashish | 5431,9 (kilogrammes) | 6959,2 (kilogrammes) |
| Heroin | 212,8 (kilos) | 34,4 (kilos) |
| Captagon | 50,964,381 (pills) | 42,352,064 (pills) |
| Marijuana | 13,5 (Tonnes) | 376,788 (kilos) |
| Cocaine | 4,548 (kilos) | 5,250 (kilos) |
| Joker (by bag) | 9008 | 10,400 |
| Joker by kilo | 89,039 | 116,718 |
| Illegal pills | 55,332 | 718,649 |
| Crystal meth | 635 (grammes) | 1,129 (kilos) |
| Opium | 0 | 9,350 (kilos) |
Source: Anti-Narcotics Department
Related Articles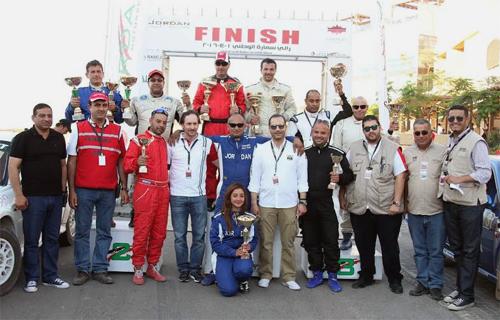 Apr 02,2016
DEAD SEA — Khaled Juma on Friday was crowned champion of the first round of the Jordan Rally Championship "Samarah Rally" held with the part
Mar 07,2016
AMMAN — Jordan's Wihdat and Faisali will play their stage two Asian Football Confederation (AFC) Cup on Tuesday with both teams aiming to co
Sep 22,2016
AMMAN — The Independent Election Commission on Wednesday announced the vote results in 11 electoral districts.By midnight, Mustafa Barari, t
Newsletter
Get top stories and blog posts emailed to you each day.