You are here
MPs question gov't over allegations of Israeli nuclear pollution
By Jassar Al Tahat - Apr 05,2017 - Last updated at Apr 05,2017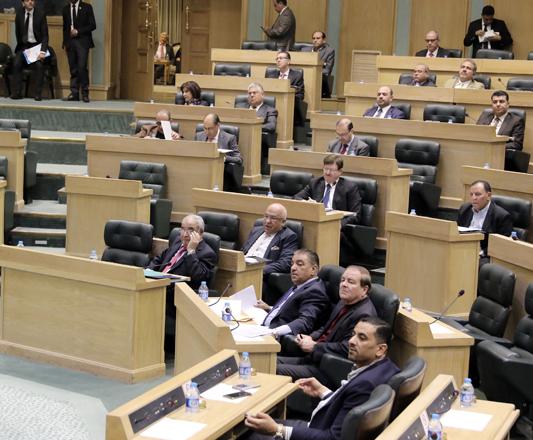 Lawmakers are seen during a Lower House oversight session on Tuesday (Photo by Osama Aqarbeh)
AMMAN — Allegations of leaks from Israel's Dimona nuclear reactor were raised during a Lower House oversight session on Tuesday.
MPs enquired about issues concerning the environment, government transparency, corruption and foreign investment.
Deputy Saleh Armouti (Amman, 3rd District) asked about alleged nuclear pollution caused by leakage from Israel's Dimona nuclear reactor.
"This case has a dangerous effect on the health of the Jordanian people, especially in the south of the Kingdom," Armouti said.
"My question was addressed to the minister of Environment and the response was shocking: the minister stated that he is not specialised in such matters," the deputy stated.
Southern Badia MP Nawaf Neimat said: "What MP Armouti stated is very important. The nuclear pollution constitutes an environmental disaster for the residents of southern Jordan."
Minister of Energy and Mineral Resources Ibrahim Saif responded that "we have nothing to hide".
"We have no fears regarding nuclear pollution and we are careful when dealing with such issues, since it is a threat to the health of Jordanians," added Saif.
"The specialised equipment for monitoring nuclear pollution was renewed in 2016, and we are also collaborating with the International Atomic Energy Agency to assist us," the minister concluded.
Meanwhile, Balqa Deputy Mutaz Abu Rumman called for constitutional amendments to tackle corruption.
Karak MP Manal Dmour criticised the government's policies, claiming that "the government's stance on adopting transparent policies is not genuine and is misleading".
Mohammad Riyati, representing Aqaba, blamed the government for policies that lead to the "rejection" of foreign investment.
"I was approached by investors willing to invest JD400 million in Jordan, and I suggested that we work through the prime minister. Now it's been more than 45 days and we still have no appointment," said Riyati.
"I found out that the PM is refusing to meet with us due to a motion to withdraw confidence that I, among other MPs, have adopted," added the deputy.
"It is very hurtful to know that personal matters stand in the way of the foreign investment that we are seeking in light of the current conditions," concluded Riyati.
MP Saddah Habashneh (Karak) accused Musa Maaytah, minister of Political and Parliamentary Affairs, of "inciting" MPs to leave the session so it would lose its legal quorum, in order to avoid discussing the issue of prices.
Lower House Deputy Speaker Khamis Atiyeh adjourned the session, with lawmakers scheduled to meet again on Sunday.
Related Articles
Apr 28,2016
OCCUPIED JERUSALEM — Growing safety fears surrounding Israel's largest but ageing atomic research centre have provoked fresh questions over
Mar 12,2017
AMMAN — Lawmakers on Sunday approved two draft laws regarding patents and began discussing the amended bill of the civil aviation law during
Newsletter
Get top stories and blog posts emailed to you each day.