You are here
Mubadara group to sign partnership deal with gov't next week — founder
By Khaled Neimat - Jul 17,2014 - Last updated at Jul 17,2014
AMMAN — An agreement between the government and a Lower House-based initiative is scheduled to be announced next week, to become "the cornerstone" for a future partnership between the two sides, a deputy said Thursday.
"Next week the country will witness the emergence of a new type of partnership between executive and legislative authorities," MP Mustafa Hamarneh, founder and general coordinator of the House-based "Mubadara" group, told The Jordan Times over the phone.
Prime Minister Abdullah Ensour, along with 11 of his Cabinet members, will meet next Tuesday with Mubadara members at Parliament in Amman to announce the new partnership, Hamarneh said.
He added that his team and the government have agreed over several issues, drafting "policy papers" that will be the basis of government work in the next months.
Implementation of the agreed-upon policies will start immediately, according to Hamarneh, who added, that these papers address several issues related to political development, economy, education reforms, tourism, transportation, energy and healthcare.
Launched last year, Mubadara includes some 30 MPs who came together to partner with the government after agreeing on certain short- and long-term policies to address various challenges facing the country.
The partnership sets commitments and obligations for both sides. The government will have to implement the agreed-upon policies while the Mubadara team will have to support such policies and even lobby for them within Parliament.
"Now the government has its own team within Parliament who will help pass laws or even avoid any attempts to block its work," said a Mubadara member on condition of anonymity.
Mubadara is set to evolve into a registered Lower House bloc amid expectations that its members will decrease from 30 to around 25 of the 150-member House.
"This is a breakthrough in Jordan's parliamentary life," Hamarneh said.
The Lower House is now in recess after a Royal Decree was issued adjourning its extraordinary session. However, another extraordinary session is expected to commence after Ramadan.
Related Articles
Jul 22,2014
Prime Minister Abdullah Ensour on Tuesday stressed that the government is committed to implementing the plans and policies agreed upon with the House-based Mubadara (initiative).
Apr 21,2014
Two major groups within the Lower House are planning to join forces based on agreed-upon programmes and policies, a parliamentary source said on Monday.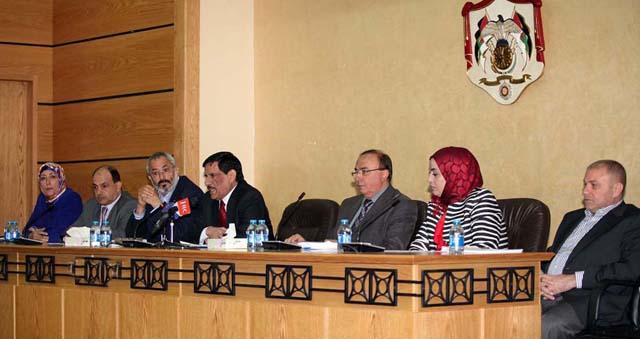 Mar 31,2014
The Lower House-based Mubadara alliance is moving from theoretical to practical stages, with a clear vision to deliver in the next few months, members of the initiative said on Monday.
Newsletter
Get top stories and blog posts emailed to you each day.