You are here
National platform launched to empower women's economic participation
By JT - Oct 04,2022 - Last updated at Oct 04,2022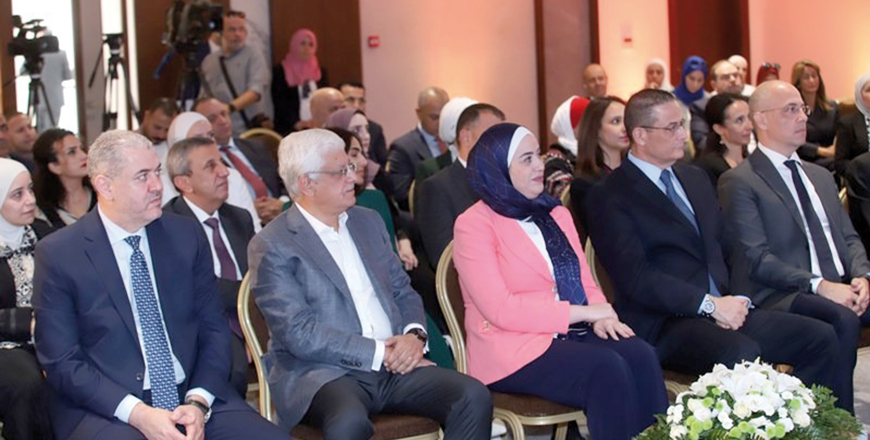 Minister of State for Legal Affairs Wafa Bani Mustafa and guests during the launch ceremony of the digital national platform 'We are all on the board' on Tuesday (Petra photo)
AMMAN — Deputising for Her Majesty Queen Rania, Minister of State for Legal Affairs Wafa Bani Mustafa on Tuesday attended the launch ceremony of the digital national platform "We are all on the board", which aims to empower qualified women to assume high leadership positions in the private sector.
The platform also seeks to empower women's economic participation and enhance the work of companies through increasing diversity and striking a gender balance in the workplace, the Jordan News Agency, Petra, reported.
The platform was established via a national initiative of the Association of Banks in Jordan (ABJ) in partnership with the International Labour Organisation and Amam Ventures.
Governor of the Central Bank of Jordan (CBJ) Adel Sharkas praised the efforts of the association in launching the platform, which will help banks reach the highest number of qualified women that have the necessary expertise and training to assume posts in the boards of directors of banks.
Sharkas added that banks in Jordan have made progress in adopting policies and practices that take gender into consideration in employment, retaining employees, enhancing the culture of corporate work and addressing obstacles that have prevented women from reaching positions of leadership.
The governor said that the CBJ took the initiative, through increasing the rate of female representation on its board of directors, which currently has three female members out of a total nine, noting that these women are also members of CBJ's two most important committees.
He noted that data from the Securities Depository Centre show that the percentage of female board members of banks in Jordan stands at around 8 per cent, with an average of one woman on each board, adding that this rate is higher than the average in the Middle East, which stands at four per cent.
As for women's bank accounts, Sharkas said that women hold 1.4 million accounts, representing some 36 per cent of total individual checking accounts. The number of loans granted to women stands at some 223,000, accounting for almost 18.5 per cent of individual loans.
ABJ Chairman Bassem Salem said that the platform is part of Queen Rania's keenness to support Jordanian women in all sectors, noting that the platform is a national initiative created by banks' belief that women are partners in all fields.
On the sidelines of the ceremony, ABJ held a panel discussion with the participation of ABJ Director General Maher Mahrouq, who said that the platform reflects efforts on behalf of the banking sector to increase women's presence in leadership positions at banks, noting that female employees in constitute 38 per cent of the sector.
CEO of Amam Ventures Tamara Abduljabbar said that the company is an investment fund and an advisory institution that offers technical assistance for the sustainability and growth of SMEs with a gender-based approach.
Newsletter
Get top stories and blog posts emailed to you each day.