You are here
New int'l research centre to boost Canadian-Jordanian scientific cooperation
By Dana Al Emam - May 17,2017 - Last updated at May 17,2017
AMMAN — The recent opening of an international synchrotron-light research centre in the Kingdom is an opportunity to boost scientific and research collaboration between Jordan and Canada, according to Canadian diplomat and experts.
They agreed that the Canadian experience in this field, which amounts to over 10 years, can be of benefit to the Jordanian and international research community working at the Synchrotron-light for Experimental Science and Applications in the Middle East (SESAME) international research centre, inaugurated by His Majesty King Abdullah on Tuesday.
SESAME, a third-generation synchrotron light source based in Allan area in the Balqa Governorate, 35km northwest of Amman, will contribute to developing scientific research in the fields of medicine, pharmaceuticals, physics, chemistry, biology and other sciences.
The project's development phase gathered scientists from Jordan, Cyprus, Egypt, Iran, Israel, Pakistan, Palestine and Turkey, in addition to several supervising countries working together to build the first scientific research lab of its kind in the region.
In an interview with The Jordan Times on Tuesday, Canadian Ambassador to Jordan Peter MacDougall said there is a lot of potential for collaboration and partnership between Jordan's new synchrotron and his country's synchrotron, called the Canadian Light Source (CLS).
"It is another layer to deepen our relationship and expand our cooperation in new areas," he said, adding that scientific and academic cooperation between the two countries does not constitute a major part of the bilateral relations at the current stage.
MacDougall said SESAME is a great platform to foster innovation and for international scientific cooperation that can lead to breakthroughs and new discoveries.
He highlighted his country's commitment to support Jordan's resilience, particularly in light of the Syrian crisis, noting that science could be another area of cooperation.
"In Jordan, the Canadian government is spending over $100 million a year in development, humanitarian assistance and supporting the security sector in fighting terrorism," the ambassador noted, adding that the wisdom of Jordan's leadership entitled it to host the regional project.
CLS CEO Robert Lamb said the synchrotron is a machine that produces beams of very bright light that functions as "the world's ultimate microscope", adding that, in SESAME, there are 4 beams at the moment, but that number can increase to come 20 or 25 beams over the years.
"The CLS started like that just over 10 years ago with 7 beams, and it now has 22," he told The Jordan Times, noting that what is important is for scientists to decide what to do with the light.
While Jordan can use this high-end technology to study cultural artifacts, there are many disciplines where this technology can be of utmost importance.
Lamb said that in Canada it is mainly used in the field of agriculture, whereby scientists and plant experts see right inside plants, an expertise they can bring to Jordan, he added.
CLS Science Director Dean Chapman explained that it is also used to better understand properties of matters and their molecules, noting that this technology is also used to enhance the efficiency of medications, control toxins of mining for further preservation of environment and imaging of several diseases, including cancer and osteoporosis.
"[Synchrotron] brings all points of science into one facility," he said, underlining that synchrotrons are platforms for scientists and experts from many countries to exchange ideas and work together in an international ecosystem.
Chapman said the engagement of university students in training programmes can further maximise the impact of the centre.
Commenting on the economic gains of this technology, Lamb said that fundamental science and its applications work in parallel with finding new ways to improve the quality of products, regardless of the field.
For example, a subtle improvement in the quality of crops in Canada through synchrotron instrumentations has resulted in financial revenues of hundreds of millions of dollars, he noted, adding that the industry will engage with science in this process.
Rob Norris, senior strategist at CLS, said the urgency of the projects that synchrotron research addresses helps build an ecosystem and mechanisms to support dialogue between industry, academia and government, facilitating collaboration.
The centre, which will have the first accelerator in the world powered solely by solar energy, has so far received 55 scientific research projects to use the nuclear accelerators, and is expected to attract many scientists from the region.
Related Articles
Nov 26,2017
AMMAN — After producing synchrotron light in the X-Ray Fluorescence beamline for the first time in the Arab and Islamic world, Jordan'
Apr 14,2015
A delegation from the European Commission on Tuesday visited Synchrotron-light for Experimental Science and Application in the Middle East (SESAME) and had a first-hand look at the project.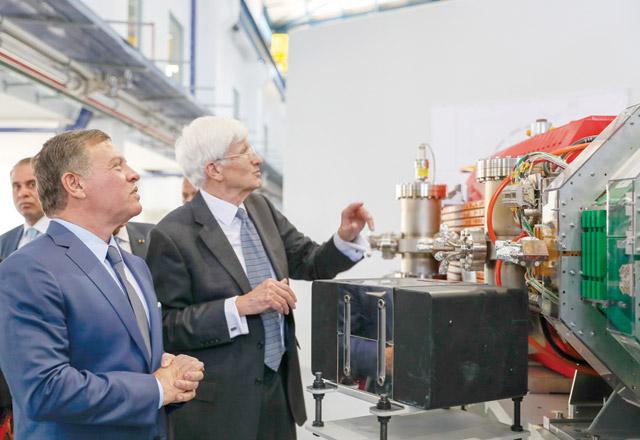 May 16,2017
AMMAN — His Majesty King Abdullah on Tuesday inaugurated the Synchrotron-light for Experimental Science and Applications in the Middle East
Newsletter
Get top stories and blog posts emailed to you each day.