You are here
New Petra Museum opportunity for tourists to read, feel and experience ancient city
By Saeb Rawashdeh - May 13,2019 - Last updated at May 13,2019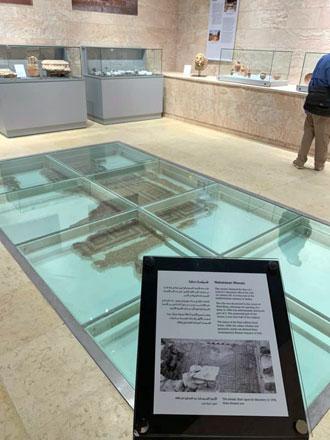 Nabatean mosaics and artefacts displayed at the Petra Museum in May (Photo courtesy of PDTRA)
AMMAN — Opened on World Heritage Day, the new Petra Museum represents the idea of showcasing the history of Petra to both scholars and tourists.
"The museum will certainly enhance the tourism experience in Petra, and will give an opportunity for tourists and locals to spend time in the evening, too," Chief Commissioner of the Petra Development and Tourism Region Authority Suleiman Farajat said in a recent interview with The Jordan Times.
"It is going to be a living museum, and the exterior area will be utilised for various cultural events," the commissioner said.
For Jack Green, associate director of the American Centre of Oriental Research (ACOR), "the museum is appealing at the aesthetic level, especially given the sculpture and architectural fragments on exhibit there, which are of very high quality and have significant presence and impact".
Farajat said that the JD50 foreign tourists pay as entrance fees to Petra will allow them access to the museum while local and Arab tourists may be asked to pay a small fee.
"We are having more individual tourists who want to experience Petra and Wadi Musa beyond their hotel stay," Farajat said, adding that the museum presents a great opportunity for tourists to read, feel and experience Petra especially after their visit to the site.
Talking about the content of the museum, Green said that the tour could be a two-hour-long experience.
"For academic or specialised visitors, they may be looking for specific objects or collections, and may want more specialised displays," the scholar said, adding that it could be disappointing if a specific object or a site is not represented.
"ACOR's role was minimal, as the centre was not directly involved in the museum project, which, apart from the Japanese funding and expertise in laying down the museum's infrastructure, was 100 per cent Jordanian in terms of curatorial content development, design and installation," Green said.
Last winter, one of two statues of Aphrodite that were conserved in the fall of 2018 by ACOR fellow Michael Moor is on display at the Petra Museum, Green said.
"The second Aphrodite statue from the North Ridgeis will be transferred to the Petra Museum in the near future. This will likely coincide with additional objects being added, including those coming back from the 'World Between Empires' exhibit at the Metropolitan Museum, in New York City," Green said.
Newsletter
Get top stories and blog posts emailed to you each day.