You are here
New regulations for filling top-category government jobs approved
By JT - Apr 22,2019 - Last updated at Apr 22,2019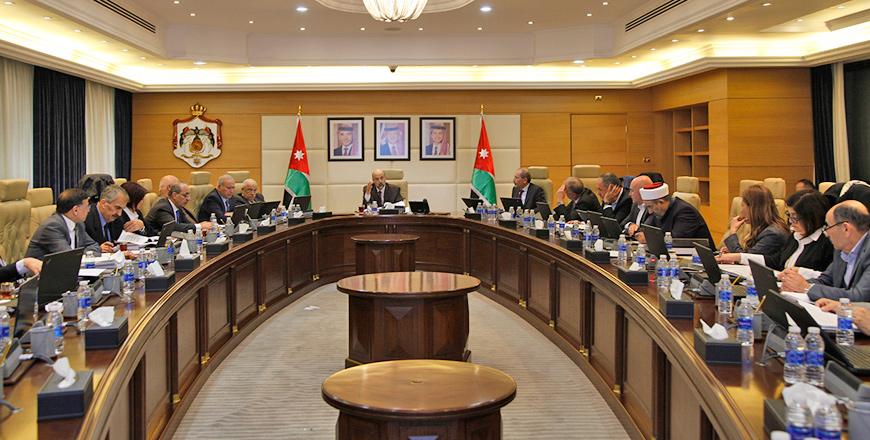 Prime Minister Omar Razzaz chairs a Cabinet session on Monday (Petra photo)
AMMAN — The Cabinet on Monday approved a 2019 by-law on appointments for top-category government jobs to prevent exclusions in the hiring process, which would rely on the qualifications of candidates.
The new regulations require the ministerial committee in charge of appointing candidates to high-profile positions to provide video recordings of interviews held with the purpose of selecting and appointing a candidate, the Jordan News Agency, Petra, reported.
After interviews are completed, the committee is allocated, under the by-law, two business days to rank candidates in accordance with the total acquired points accounting for a candidate's résumé, interview performance and ability tests.
The committee must then provide the prime minister with a report containing the finalists' names, as well as interview templates, forms, results and the committee's final decision.
The panel would then forward the names of the three candidates with the highest scores to the institution seeking to fill the vacancy in question, which in turn has two working days to forward their recommendation of the ideal candidate to the Cabinet.
The names of the three candidates and the institution's recommendation must be presented during the Cabinet's first upcoming session after the submission or the one that follows, to make a decision, which would then be published on the websites of the Cabinet, the Civil Service Bureau and the institution with the vacancy.
The by-law stipulates that the announcement be accompanied by a justification for the candidate's selection and a summary of the selection process, according to Petra.
Governors, ambassadors, secretaries general of the Lower House and Senate in addition to the heads of the offices of the prime minister, Senate and Lower House are excluded from the by-law, Petra added.
The by-law is intended to increase transparency and trust in government decisions with regards to appointments in top-category positions.
Newsletter
Get top stories and blog posts emailed to you each day.