You are here
'New regulations to restrict use of ride hailing apps to licensed taxis'
Users of Uber, Careem decry move, say such services needed to counter lack of 'decent' public transport system
By Mohammad Ghazal - Nov 03,2016 - Last updated at Nov 03,2016
In this December 16, 2014 photo, a man leaves the headquarters of Uber in San Francisco (AP photo)
AMMAN — Using ride hailing apps such as Uber and Careem in Jordan will be restricted to licensed cabs and hotel taxis under new regulations to be issued soon, according to a Transport Ministry official.
In Jordan, it is not allowed for private cars to provide services under Uber and Careem. Many drivers have been detained and their cars impounded.
The new regulations, which will be announced "soon" according to the official, are being finalised and will be adopted by a specialised committee formed to study the issue.
"Once endorsed, licensed taxis that wish to use these apps have to submit applications to the transport authorities to get special permits so as not to face any fines," the official told The Jordan Times on Thursday on condition of anonymity.
According to the 2010 Public Transport Law, it is mandatory to obtain a special licence to operate a public transport vehicle.
The growing use of Uber and Careem apps has triggered a controversy not only in Jordan but in many countries, where drivers of cabs protested on several occasions. Some cities such as Dubai reached a deal last month allowing riders to book taxis through Careem.
"If these regulations are enforced, it will be a disaster and counter to Jordan's image as a country that supports entrepreneurship and adoption of technologies," Sabri Hakeem, a representative of Careem in the Middle East, told The Jordan Times.
Some 3,000 drivers in Jordan use Careem and apps by other rivals, and they transport around 50,000 to 60,000 passengers per month.
There are around 12,000 cabs in Amman that serve more than 3.5 million residents, which is "insufficient", Hakeem said.
"Many of those who use such apps have taken loans to buy cars and work as drivers. They also include university graduates who could not find a job but managed to make a good income by using these apps to work as drivers. Some also pay for their university tuition by working through such apps," he added.
Careem has not received any notification from authorities about the upcoming regulations, the executive said. "We hope this is untrue."
Many Jordanians voiced dismay over the restriction of the service in the country.
The government, they said, should ensure the availability of "proper" public transport services before banning drivers from using such apps, which they said help avoid the hassle of getting a yellow taxi in the country.
"The lack of well-organised public transport in Jordan helped in the emergence of such services like Uber and Careem… These apps have provided Jordanians with the alternative they need amidst a lack of decent public transport," Khaled Maani, co-founder of the citizen-led public transport advocacy group Maan Nasel, told The Jordan Times.
"Riders are using these services because they have lost hope in public transport that operates according to regular schedules. They are even upset with taxis, as some cab drivers are picky when it comes to taking passengers and going to certain destinations," said Maani.
"Had there been proper public transport network, services such as Careem and Uber would not have been there to start with," he added.
Ahmad Deeb, a resident of Jabal Al Hussein who works as a salesman at an aluminium company, said he has used Careem several times and likes the service.
"Careem drivers don't smoke. They don't complain about where I am going and are very friendly," said Deeb.
"They are certainly better than many yellow taxis… It will be a loss not to have them anymore. I hate not having any other choice but to take a yellow taxi whose drivers sometimes manipulates passengers," he added.
Mohammad Haj Abed, a cab driver, welcomed the decision to ban Uber and Careem.
"It is kind of a hobby for Uber and Careem drivers to do this job when they have time and when they need some money, but for me this is my life. I have been working as a taxi driver for more than 15 years," Haj Abed told The Jordan Times.
"If there are some malpractices by cab drivers, one should not generalise. Taxi drivers are human beings and have families to support. Our income is not as good as it used to be…Only licensed taxis should be allowed to do this job," he added.
Related Articles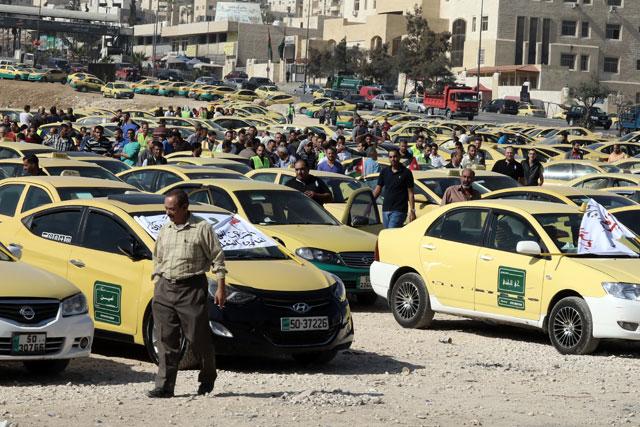 Nov 15,2016
AMMAN — Taxi drivers in Jordan protested on Tuesday against what they called "unfair" competition from ride hailing apps such as Uber and Ca
Dec 03,2016
AMMAN — The government on Saturday said it has no plans to block ride hailing apps such as Uber and Careem. "It is difficult to block s
Mar 07,2017
Amman — Ride-hailing app Careem on Tuesday announced the start of bringing yellow taxis under its wings, helping put an end to a month-long
Newsletter
Get top stories and blog posts emailed to you each day.