You are here
Ninth campaign launched to promote screening for breast cancer
Drive includes collaboration with regional partners
By Dana Al Emam - Oct 05,2016 - Last updated at Oct 05,2016
AMMAN — The Jordan Breast Cancer Programme on Wednesday launched its ninth annual campaign to encourage women to undergo screening for early detection and diagnosis of breast cancer.
For the first time, the October awareness campaign has a regional dimension, as it is carried out with the efforts of Saudi Arabia, the UAE, Qatar, Palestine and Iraq, said HRH Princess Ghida Talal, chairperson of the King Hussein Cancer Foundation's board of trustees.
The "You are life… get screened and reassure us" campaign seeks to encourage women to prioritise screening and to promote the role of the family as a support system, she added, noting that survival rates in early stages reach up to 90 per cent.
"Screening is necessary… Early diagnosis saves lives," she said at the launch.
Around 5,400 breast cancer cases are recorded in Jordan every year, said Asem Mansour, director general of the King Hussein Cancer Centre, adding that breast cancer is the most common type of cancer in Jordan, accounting for 19 per cent of all cases.
Initial data show that breast cancer cases diagnosed in stages three and four, as opposed to stages zero, one and two, have dropped from 70 to 35 per cent due to higher awareness of the importance of early diagnosis.
"Yet, we still need the spread of more awareness," Mansour said, noting that 82 people in every 100,000 citizens are diagnosed with breast cancer.
Related Articles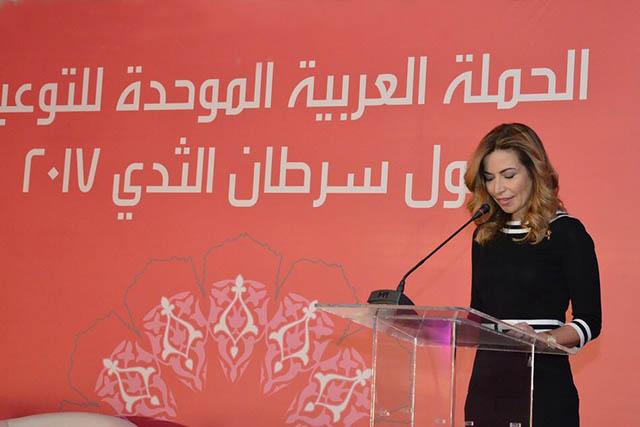 Oct 17,2017
AMMAN — Jordan is joining several Arab countries in an awareness campaign encouraging women to undergo screenings for early detection and di
Mar 20,2017
AMMAN — Children of breast cancer survivors on Sunday expressed their joy and gratitude for celebrating Mother's Day with their mothers duri
Oct 06,2015
AMMAN — The Jordan Breast Cancer Programme (JBCP) on Monday launched its annual awareness campaign "Stay in my life… get screened."The Octob
Newsletter
Get top stories and blog posts emailed to you each day.