You are here
'No major incidents reported among Syrian refugees in camps'
By Khetam Malkawi - Jan 11,2015 - Last updated at Jan 11,2015
AMMAN — No deaths or major incidents were reported among Syrian refugees residing in official camps and facilities in the northern and eastern governorates of the country, the UNHCR said on Sunday.
In a statement sent to The Jordan Times, the agency said precautions taken in cooperation with partners during the snowstorm helped avert major incidents.
"We have prepared 12 warm and safe centres... in the Zaatari camp, and all families in the camp were [told] that they can go to these shelters in case of damage to their trailers or tents," Ali Bibi, UNHCR liaison officer, told The Jordan Times on Sunday.
He added that there are 85,000 Syrians residing in the Zaatari camp in Mafraq, around 80km northeast of Amman, and only 20 per cent of them still live in tents. Others, he added, live in prefabricated trailer homes with less risk of accidents during the storm.
However, the authorities reported two deaths among Syrians residing among host communities in Mafraq Governorate.
According to reports, a Syrian child and his grandmother died of carbon monoxide poisoning on Thursday after inhaling fumes from heaters.
Meanwhile, the
UNHCR said its team patrolled the Zaatari camp throughout last Wednesday night and by morning had taken some 600 people whose shelters were cold or wet to the safe centres. Four people were taken to hospital for treatment.
The UNHCR statement said a critical part of the emergency response to the storm dubbed "Huda", was the distribution of 89,000 blankets donated by the United Arab Emirates as part of a nationwide campaign launched by Sheikh Khalifa Bin Zayed Al Nahyan, president of the UAE, and under the direction of Sheikh Mohammed Bin Rashid Al Maktoum, vice-president and prime minister of the UAE and ruler of Dubai, which aims at alleviating the suffering of one-million refugees during the harsh winter conditions.
"This donation will provide warmth and protection to tens of thousands of Syrian women, children and elderly, and help them get through these tough times," said Andrew Harper, UNHCR representative to Jordan.
A consignment of 29,920 blankets which arrived by plane from Dubai last Wednesday morning was distributed to Syrian refugees in the Azraq camp, some 100km east of Amman.
"Thanks to our partners and timely support from donors, we have been able to get aid to the neediest families before winter hit Jordan. But this storm is going to make the lives of tens of thousands of people miserable and we have to be on the ground and prepared to do even more," Harper added.
In spite of the worsening road conditions, UNHCR said it deployed some 65 field staff to sites around Jordan to monitor and address the needs of refugees.
UNHCR and legal aid staff each operate an emergency telephone line to respond to urgent requests for assistance and protection.
In the Azraq camp, UNHCR and partners such as the Norwegian Refugee Council (NRC) have distributed warm clothing, including thermal jackets and socks, to 28 families who recently arrived at the camp, according to the statement.
Although significant snowfall was recorded in the southern part of Irbid Governorate, 80km north of Amman, no major incidents have been reported in the area, where a large number of Syrian refugees reside, the agency added.
UNHCR has given cash grants to 27,000 of the most vulnerable refugee families to help them cover essential needs such as heating. Gas heaters, plastic sheets and warm clothes have already been distributed in the camps.
Related Articles
Feb 21,2015
Measures adopted by the authorities and UN agencies prior to and during the snowstorm that hit most of the country's governorates this weekend helped avert major incidents among Syrian refugees in the camps.
Feb 22,2015
No injuries or major incidents took place in the Zaatari Refugee Camp during the snowstorm, the UNHCR said Sunday.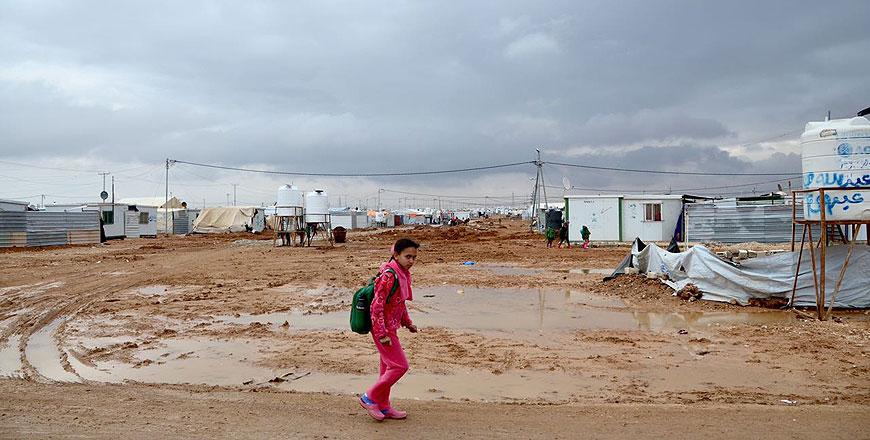 Dec 27,2016
ZAATARI REFUGEE CAMP — Refugees at the Zaatari camp, over 80km northeast of Amman, are no longer worried about rainwater flooding their livi