You are here
Noted bookstore owner dies in traffic accident
Maaytah has recently received nationwide support after his shop burned down
By Rana Husseini - Mar 04,2018 - Last updated at Mar 04,2018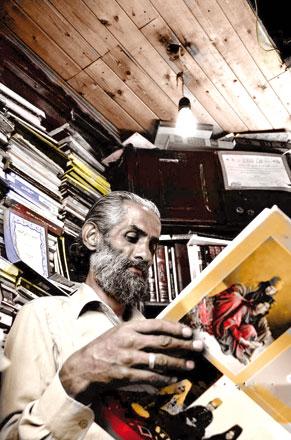 Hisham Maaytah, owner of Al Jahez Closet, who died in a traffic accident during the weekend, is seen in his bookshop in downtown Amman (Photo by Muath Friej)
AMMAN — Customers and friends of owner of Al Jahez Closet, one of the oldest bookstores in Jordan, Hisham Maaytah are lamenting the death of the man over the weekend.
News outlets and social media users on Saturday reported that Maaytah died in a traffic accident.
Earlier this month, Maaytah's storage, which contained books and ancient transcripts, was engulfed in flames because of a short circuit, destroying over 10,000 books and ancient documents.
Several young people at the taime launched a Facebook campaign, urging people to donate books to compensate for the destroyed books. They managed to collect around 2,000 books.
Mohammed Faouri, one of the young men who launched the campaign, told The Jordan Times that he "still cannot comprehend what happened".
"I am still in shock and can not believe the news. He was a great man with a white heart who was good to everyone. It is a grave loss to all," Faouri said.
Sami Abu Hussein, who owns Al Taleeha Bookshop, located some 500 metres away from Maaytah's kiosk, said "we are shocked and saddened by his sudden death and it is surely a grave loss for the cultural scene in Jordan".
"He had important and old book titles and he was a true and good friend to everyone he knew," Abu Hussein told The Jordan Times.
He said that Maaytah's kiosk remained closed on Saturday "awaiting some of his family members to decide what they plan to do with it".
Columnist Abdul Majid Majali wrote an article published in Khaberni website, lamenting what he described as the "sudden loss of a great intellectual thinker at a time when we live in more ignorance".
"You were different than any bookseller I met in my life because you read each and every book before you sold it to customers and was ready to discuss its content with them," Majali wrote.
Majali added that Maaytah had a noble cause of "encouraging people to read and rent the books for JD1".
Upon hearing of the news of the fire, His Majesty King Abdullah instructed officials to offer Maaytah's family financial support to compensate for his loss, it was reported earlier in February.
Related Articles
Mar 06,2018
AMMAN — His Majesty King Abdullah on Monday visited the Karak diwan in Amman to offer his condolences over the death of Hisham Maaytah, owne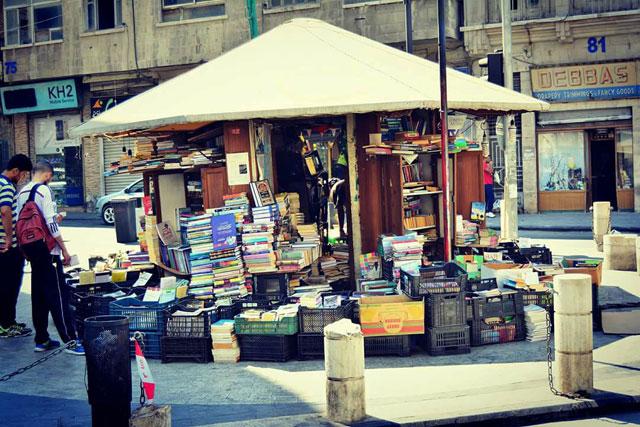 Feb 03,2018
AMMAN — A group of young people are uniting their efforts by collecting donated books to compensate one of the oldest book kiosk in Amm
May 05,2015
The Greater Amman Municipality has so far removed 30 kiosks providing illegal valet parking services to motorists under a campaign launched recently, a GAM official said on Tuesday. 
Newsletter
Get top stories and blog posts emailed to you each day.