You are here
Organisations pledge action to empower women in workplace
By Dana Al Emam - Oct 13,2016 - Last updated at Oct 13,2016
AMMAN — Private and public institutions, civil society organisations and activists made commitments to empower women in the workplace at the Women's Economic Participation Conference in Amman on Wednesday.
Participants pledged to create and implement policies, programmes and initiatives to address the two-day conference's four pillars: engaging political actors in the economic agenda; access to finance and funding entrepreneurship, home-based businesses and start-ups; and matching market needs with education outputs.
To put women's economic participation on the political agenda, the Jordanian National Commission for Women and EDAMA Association signed a memorandum of understanding to design, network and implement capacity building programmes for stakeholders involved in the energy, water and environment sectors in Jordan, and to integrate gender into these fields.
The Sisterhood Is Global Institute (SIGI) pledged to continue advocacy campaigns to raise awareness of women's rights, particularly in education, equal pay and amending the Personal Status Law.
NAMA company, a strategic intelligence provider, committed to providing research-based policy options in collaboration with USAID Takamol and other partners.
Regarding women's access to finance, partners and supporters of the USAID Takamol boot camp committed to investing in female-led start-ups.
In addition, F03 Venture Partners launched a six-month female founders' fellowship programme for 105 women with successful start-ups, in addition to meet-ups outside Amman over the next year.
The Micro-Fund for Women committed to providing up to 3,000 Syrian female refugees with training sessions to develop service support mechanisms to ensure exchange of knowledge between loan recipients and networks.
In addition, USAID BEST committed to technically and financially supporting entrepreneurs in the field of tourism and eco-tourism.
To support home-based start-ups, USAID LENS will work with the Ministry of Municipal Affairs and the World Bank to register up to 3,000 home-based businesses by 2020.
Aljidara firm pledged to facilitate and enhance protocols and regulations to register home-based business outside the food processing sector, in collaboration with USAID Takamol and the Greater Amman Municipality.
To encourage women's entry and re-entry into the labour market, EDAMA Association, with the support of USAID Takamol, committed to providing analysis on market needs from the "supply" side as well as suggestions to support the balance between supply and demand.
Also on Wednesday, 13 private institutions signed the "Meethaq" charter to enhance gender equity in the workplace.
USAID Takamol is committed to implementing a study on bridging the gender gap in local curricula, in coordination with national partners in this field.
The SADAQA Campaign said it will continue advocating amending Article 72 of the Labour Law, which highlights the importance of establishing crèches at workplaces in institutions hiring more than 20 women, in cooperation with private and public sectors.
In a similar effort, the Jordan Pay Equity Committee, along with the International Labour Organisation and the Ministry of Labour, committed to amending the Labour Law and to contributing to the regulation of the private education sector in regard to wages of female teachers.
The Women's Economic Participation Conference was organised by USAID Takamol, a five-year USAID-funded programme implemented by US-based non-profit organisation IREX that focuses on mainstreaming gender at the national and community levels through policy advocacy and social dialogue.
Related Articles
Oct 11,2016
AMMAN — Aside from social and personal benefits, enhancing women's participation in the economy is key to a higher gross domestic product (G
Nov 04,2015
AMMAN — In the presence of HRH Princess Basma and US Ambassador to Jordan Alice G.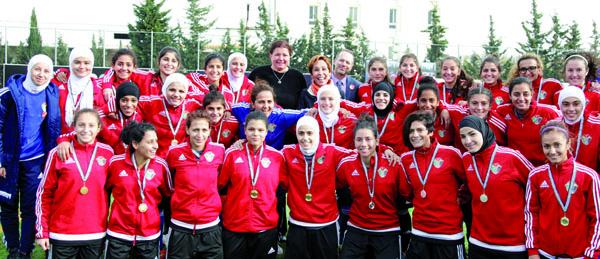 Nov 25,2015
AMMAN — Thirty Jordanian women football players came together for a friendly game in Amman on Wednesday to launch Jordan's activities of the
Newsletter
Get top stories and blog posts emailed to you each day.