You are here
Painter provokes spectators through 'hyperrealist' art
By Camille Dupire - Oct 23,2017 - Last updated at Oct 23,2017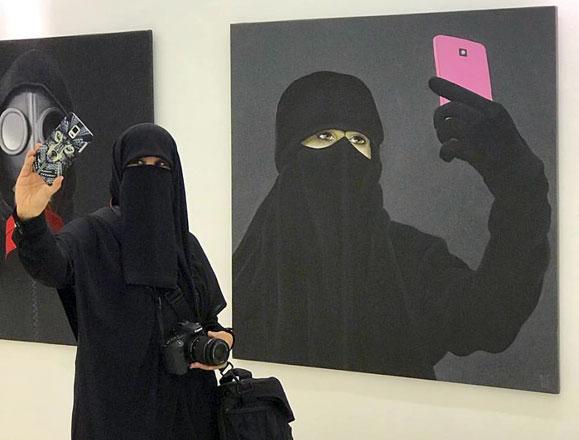 'The Selfie Generation' by Bente Christensen-Ernst is displayed at the Danish painter's solo exhibition at Dar Al Anda gallery in Jabal luweibdeh (Photo courtesy of Dar Al Anda Gallery)
AMMAN — "An 'Easternised' Scandinavian": this is how an art critic described the Danish painter Bente Christensen-Ernst, whose latest work is currently displayed in a solo exhibition at Dar Al Anda Gallery in Jabal Luweibdeh.
An autodidact who never set foot into any art school, Christensen-Ernst's creative universe was nurtured by her life in Ankara, where she moved in the 1940s with her husband.
Running through November 2, the exhibition showcases the artist's hyper-realist paintings in her first ever exhibition in Jordan, offering the viewer strikingly realistic images that leave "no room for ambiguity".
Upon entering the gallery, a duo of portraits titled "Before the Wedding" and "After the Wedding" reveals itself to the visitor, depicting a young woman's face blinded by a red ribbon in the first piece, and having the same cloth cover the women's mouth in the second.
An homage to her dual-cultured life between Europe and the Turkish area near the Syrian border, Christensen-Ernst's work has gradually become infused with themes related to the conflict-ridden region she has been living in.
Provoking reflection is one of Christensen-Ernst's primary aim mainly through avant-garde portraits or large scaled close-ups that catch the visitor's eye.
By using simplified forms and the minimum range of shades of colour, the artist commends the viewer's attention to the core of her subjects. "I add objects or I simplify. I stylise things trying to paint the idea, if possible turning it into a metaphor," she was quoted in a statement as saying.
In her paintings, many of which depict fruits and vegetables, everyday items we tend to oversee are magnified to become "inspiring works of art".
She likens her creative process to a love affair. "I fall in love with something, it could be the colour, it could be the subject, or it could be the form," Abdulah Al Ghoul, Dar Al Anda managing director recalled her as saying.
Christensen-Ernst's art aims to go beyond first glance appearances, to extract the different layers of reality behind the viewer's first impression. This research of ultimate precision and expressiveness qualifies her as a "hyperrealist artist".
"Although photographic in essence, hyperrealist artworks are meticulously detailed to create the illusion of a reality not seen in the original photo used to gather the initial information," said Belgian art dealer Isy Brachot when he coined the term of "hypperealism" in 1973.
"The titles of her paintings are used as captions, transforming her canvasses into metaphors where vegetable and fruit become humans, and humans become ideas," Ghoul told The Jordan Times, referring to the picture of a big dry potato titled "Art historian".
Christensen-Ernst has displayed her work in New York, London and Paris, as well as in Denmark, Sweden, Germany, Russia, Turkey, Lebanon and Syria, Ghoul noted.
Related Articles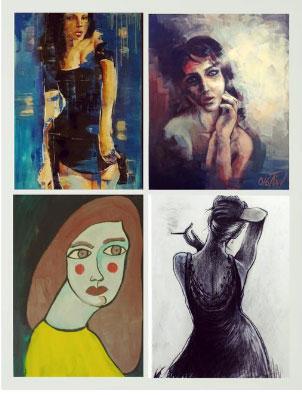 Jan 18,2018
AMMAN — The Zara Gallery on Wednesday inaugurated a group exhibition by Jordanian female artists, under the title "Delicate Lines of Strengt
May 01,2017
The Jordan National Gallery of Fine Arts is quite busy this spring.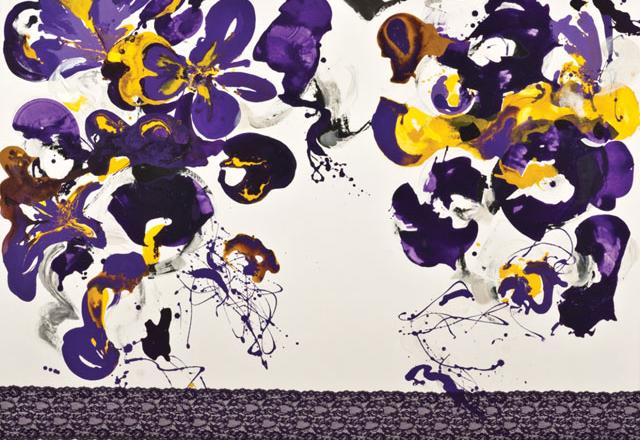 Nov 05,2014
Like the introductory musical improvisation, known as taqsim, which is played at the beginning of a traditional Turkish or Arabic music piece to draw the listener in while holding so much promise, Fusun Caglayan's works of abstract art lure one into another world — that of limitless imagination.
Newsletter
Get top stories and blog posts emailed to you each day.