You are here
Parents say school year 'equivalent to empty bank accounts', while garment sector suffers low demand
By Renad Aljadid - Sep 01,2018 - Last updated at Sep 01,2018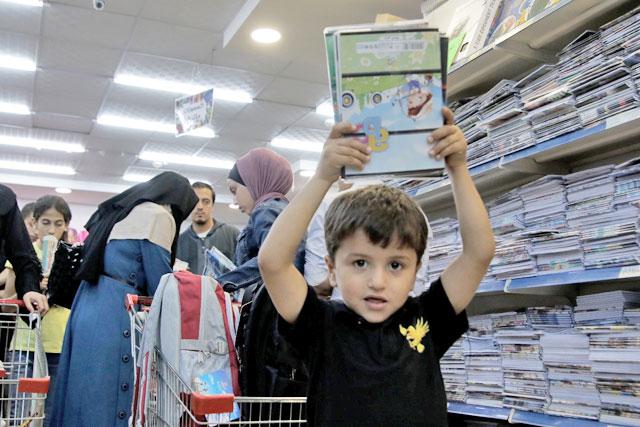 A boy holds up notebooks as his parents take him shopping in preparation of the new school year (Photo by Osama Aqarbeh)
AMMAN — With Eid Al Adha vacation swallowing their salaries, parents said that preparing their children for school is just a "nightmare".
The sales of school stationery and garments have dropped to their lowest rates in years, even though prices have fallen 10 to 15 per cent, representative of the garment sector at the Jordan Chamber of Commerce Asad Kawasmi said on Saturday.
As Jordanian students start their new school year on Sunday, parents placed their children's school needs as second priority, after food Kawasmi said, noting that demand is lower than at any time before.
"The Eid Al Adha vacation has already drained employees'August salaries," Kawasmi told The Jordan Times, adding that the estimated cost of school clothes and stationery amount to around JD40 per student in public school, while private schools' costs are a lot more.
Ahmad Awwad, a father of two students in a private school in west Amman, said that the uniform and the extracurricular books alone have cost him JD150 per child.
"I have paid a third of my salary [JD300] and I still have not bought them the stationery and the schools bags yet," he said. "The new school year has become a nightmare and is equivalent to empty bank accounts."
Layla Salem, a mother of a private school student, criticised the private schools' system which, she said, "forces parents to buy the uniform from the school itself, and not from public shops".
"I can get the same colour and style of their uniform at a lower price and even better quality from an outside shop," she told The Jordan Times.
Another parent in east Amman who preferred to remain unnamed said: "Not all people are capable of buying new stuff for their children every year."
She said that poorer families usually buy only one child a new uniform, while the other children "inherit" old uniforms from their elder siblings.
Kawasmi said that there have been several calls for tax exemptions on children's clothing in order to mitigate the financial burden on families.
He also said that markets are full of high-quality goods with lots of discounts and sales due to the strong competition among traders.
Newsletter
Get top stories and blog posts emailed to you each day.