You are here
Patriarch Theophilos meets with Pope
Theophilos praises Hashemite custodianship of Jerusalem
By JT - Oct 24,2017 - Last updated at Oct 24,2017
Patriarch of the Holy City of Jerusalem, All Palestine and Jordan Theophilos III meets with Pope Francis in Vatican on Monday (Petra photo)
AMMAN — Patriarch of the Holy City of Jerusalem, All Palestine and Jordan Theophilos III on Monday met with Pope Francis in the Vatican.
The visit, the first for a holy city patriarch to the Vatican, highlighted the unity among churches to preserve the Christian presence in the Middle East. The meeting also focussed on the importance of maintaining the status quo in Jerusalem, working jointly to achieve justice while facing challenges and reaching brotherhood and peace in the holy city, the Jordan News Agency, Petra, reported.
Talks mainly focused on the issue of Jerusalem, in which Patriarch Theophilos and Pope Francis highlighted the importance of the Christian component of the city and maintaining the religious diversity of Jerusalem, which is the capital of the three Abrahamic religions.
The patriarch acquainted the Pope with the steps made by the patriarchate in facing the Israeli decision against its property and the occupation's plans to "decrease or even wipe out the Christian presence in the old city of Jerusalem".
Both sides commended the joint statement issued last month by patriarchs and heads of church in Jerusalem, rejecting the Israeli measures to confiscate church property, alter the status quo and build the separation wall on the lands of Krimzan, whose original ownership belong to 58 Christian Palestinian families, according to Petra.
Theophilos praised the Hashemite role of His Majesty King Abdullah who constantly supports the Christian presence in the region, in his capacity as the Custodian of Christian and Islamic holy sites in Jerusalem.
Pope Francis stressed that the lack of commitment to maintaining the status quo and weak understanding among residents of the holy land will cause instability and curtail the basic rights of land owners, who will have no other choice except to abandon their lands and migrate, Petra said.
The Pope stressed the importance of defending and preserving the status quo, in a way that "all can live together in peace, to avoid suffering".
Related Articles
Mar 02,2018
AMMAN — Greek Orthodox Patriarch of Jerusalem Theophilos III has thanked His Majesty King Abdullah on behalf of himself, the patriarchs and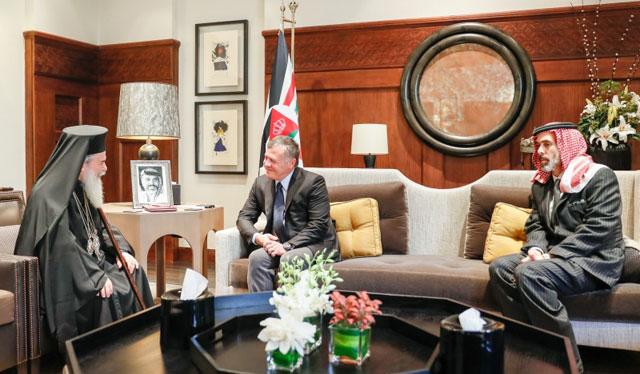 Oct 18,2017
AMMAN — His Majesty King Abdullah and Patriarch of the Holy City of Jerusalem, All Palestine and Jordan Theophilos III on Wednesday discusse
Mar 27,2018
AMMAN — His Majesty King Abdullah on Tuesday reiterated Jordan's "unaltered stand" in defence of the resilience of Jerusalem churches throug
Newsletter
Get top stories and blog posts emailed to you each day.