You are here
Petra tour guides protest against alleged graft in syndicate
By Ahmed Bani Mustafa - Jul 25,2016 - Last updated at Jul 25,2016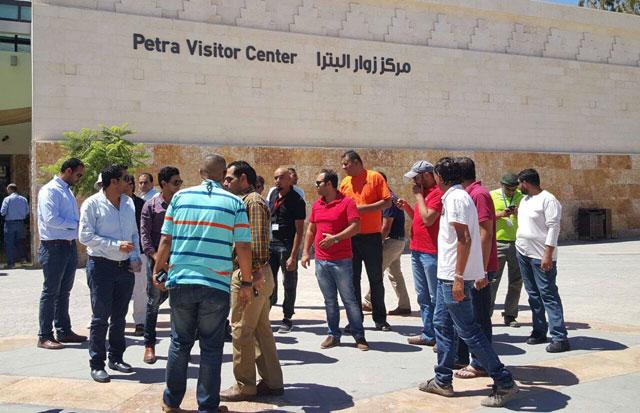 Tour guides protest outside the Petra visitor centre on Monday (JT photo)
AMMAN — Dozens of tour guides went on strike and protested at the Petra Visitor Centre on Monday over allegations of corruption within their association.
"The Jordan Tour Guides Association [JTGA] collected JD9,905 in licence renewal fees from tour guides in the Kingdom's southern region," tour guide Hani Massadeh told The Jordan Times.
Massadeh, one of the protesters, claimed that the cash collected from guides was never deposited with the association, basing his allegations on purported leaked recordings of phone calls between JTGA President Khalid Ayasrah and his secretary.
The money was recovered after a copy of the recordings was sent to the Tourism
Ministry, he said.
"But for us, it is still a violation that should not pass without a trial," Massadeh added. Ayasrah dismissed allegations that the money had been stolen, and said such a theft would be impossible as auditors supervise the finances of the association, and its accounts are accessible to the JTGA's general assembly.
The JTGA president said that any authority was welcome to review all the association's financial documents
The annual budget of the association could not be approved without listing the revenue from licence renewal fees, he added.
Meanwhile, Massadeh criticised the JTGA for not recognising the Petra tour guides' office as a local branch of the association.
The Petra office has an official stamp and in its correspondence with the Tourism Ministry; the office uses a letter head stating "JTGA Petra Branch", he noted.
But Ayasrah said the official stamp used by the office was illegal, adding that there was nothing official to prove the legality of any JTGA branch.
In a further complaint, Massadeh charged that the JTGA was allowing around 300 people employed in the public sector to work as tour guides, in violation of the law.
He called for the dissolution of the JTGA and demanded the formation of a caretaker committee "to investigate the corruption".
The tour guides are trying to avoid disturbing tourists during the strike, Massadeh said, warning that they would step up their protest if their demands were not met.