You are here
Premier clarifies public debt situation
By JT - Jan 22,2019 - Last updated at Jan 22,2019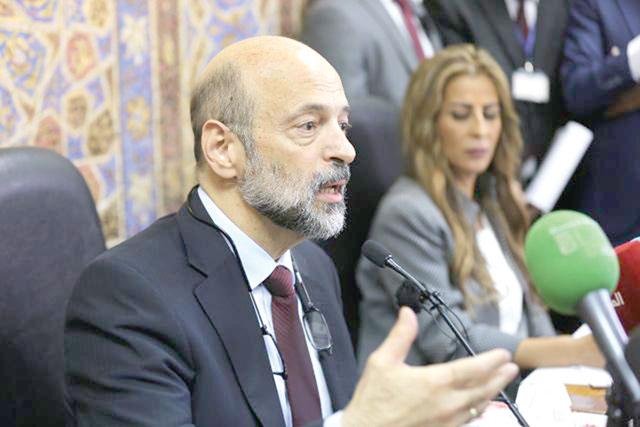 Prime Minister Omar Razzaz said in a Facebook post on Tuesday that the public debt's ratio to GDP has been lowered for the first time in a decade (JT file photo)
AMMAN — Prime Minister Omar Razzaz on Tuesday stressed that the situation of the public debt has seen a milestone development, as its ratio to GDP has been lowered for the first time in a decade.
In a Facebook post, the premier said that citizens' queries about the situation of state external and internal debts, which stood at around JD28.6 billion at the end of last October, are legitimate and it is the government's duty to respond to them.
He said that for the first time since 2008, the public debt-to-GDP ratio has gone down to 94 per cent, from 94.3 per cent at the end of 2017.
"It should be noted here that the debt burden is not measured in absolute figures as some think, but rather in its ratio to GDP", because the actual size of the debt would not go down unless the budget deficit is zero, when domestic revenues cover expenditures, adding that this is also a main target of his government.
"We have succeeded in lowering the budget deficit to 2.3 per cent of GDP and are working to take it down to 2 per cent by the end of the current year," the premier said.
Regarding a loan the government seeks to secure from the World Bank, worth a record $1.2 billion, Razzaz reiterated that the new borrowing would not add to the debt burden as the soft loan would be used to pay some of the existing loans, while it will be paid back over 35 years, with a five-year grace period and at a 4 per cent interest rate.
"This would lead to lower borrowing costs, keep foreign reserves intact and leave the private sector comfortable liquidity domestically."
He concluded: "We assure you that we will remain sincere in our efforts to address the debt issue... without levying any new taxes... ."
Newsletter
Get top stories and blog posts emailed to you each day.