You are here
Preserving Palestinian heritage one footstep at a time
By Camille Dupire - May 03,2018 - Last updated at May 03,2018
Two embroiders stitch the products inspired by their Palestinian heritage for the Gioia shoe line (Photo courtesy of Gioia)
AMMAN — After years spent covering stories about Jordan's economy, security and refugee crisis, journalist Farah Al Jouni decided she wanted to do more than only write about certain communities; she established Gioia, a local initiative aimed at producing casual footwear, while creating economic opportunities for low-income segments of society.
Time to give back to community
"Over time, I started using my journalistic instinct to identify people or communities I could help… I felt like I needed to do more for the people I reported on," she told The Jordan Times, noting that "rather than a business, Gioia is about working for a sustainable future to share economies, reduce poverty, exploit talent and encourage creativity".
She partnered with local artisans and embroidery experts to create a line of handmade shoes that include traditional embroidery techniques, calligraphy and local art.
"Many people living in underprivileged communities possess artistic talents that are often neglected or not maximised to their full potential. Once Gioia's team identifies these talents, we guide them in enhancing the use of their skills to generate revenue and support their families for a better life," Jouni explained, noting that the social enterprise strives to promote values of "diversity, cultural heritage and innovation".
"We want to create a 'shared economy' in the fashion industry by inviting talented people in vulnerable areas to be part of the production process," the brand founder continued, noting that Gioia partnered with well-known fashion designers who volunteer to provide refugees with professional advice on the trends and customers' needs.
For Maher, a shoe manufacturer since 1981, the idea of helping fellow refugees to enhance their quality of life was "a goal in itself". "I have been working in footwear manufacturing for 37 years now. I love it, it is my hobby, and I pay attention to all the details to try and be the best in Jordan," he said, noting, "I wanted to work with Gioia because it's a humanitarian project that helps other people, especially our Syrian and Palestinian brothers and sisters."
Ahmad, a Syrian shoe maker, is one of the trainees supported by Maher. "I started working in shoes when I was eight, back in Aleppo. When the war started, I came to Jordan, and Maher was very kind to give me the opportunity to work with him," the 40-year-old recalled.
Small footprints, huge impact
Every item sold gives back to the artisans involved, making a significant difference in their lives, both financially and morally, according to Jouni.
"Our project boosts their motivation to create more and work harder. We established Gioia because we truly believe in meritocracy, equality and fairness," she stressed, citing the example of embroiderer Ghuzlan, who regained financial stability for her family.
"My life used to be very hard: my husband didn't have a stable job, so tailoring and embroidery helped me improve our financial situation. Over the years, I managed to give my children a good education, and my daughter is now at university studying engineering," she said, highlighting that "Gioia helped me give her a future that will be better than mine."
By giving local artisans a chance to work from home, Gioia also offers a much easier setting for most workers, who sometimes live miles away from the nearest factories.
"Jerash is a remote area where we don't have factories or job opportunities, especially for women," said Asma, an embroidery expert with Gioia, adding that "if any of us has sewing skills, we must go to a different prefecture to find a job in a factory, and often the families object".
She said being able to do embroidery at home is much easier and gives her the chance to work while looking after her children. "For us, embroidery is a hobby, but also a form therapy to deal with psychological issues. We help our families financially, remove financial pressure on us and also prove to others that, we, women, can increase the household's revenue," Asma stressed, voicing her pride to "prove to men that we are equal to them".
For 63-year-old Helweh, working from home also came as a relief.
She came to Jordan in 1967, when she was 12 years old. "My father didn't want me to go to school in a foreign country, so I dedicated my life to stitching and embroidery. I used to work in a factory for eight hours a day, where conditions were really hard with very cold winters and hot summers," she remembered, adding that "with Gioia's project, I don't need to use public transportation in early mornings, which really made my life much easier at this age."
Walking down Palestine's memory lane
The Gioia project is also a way to preserve Palestine's heritage for these refugees, many of whom fled their lands decades ago.
"Surely, it is very beneficial financially, as it covers our expenses. But it also helps us artistically: for us Palestinians, the embroidery art is like smoking cigarettes, we can't enjoy sitting without it," Helweh told The Jordan Times, adding, "even now at my old age, I can't sit without stitching; I just use my glasses to see better and I don't stop creating."
"The Gioia project really helps us maintain our heritage through embroidery. It reminds us of how our grandmothers used to stitch, how they used the needle, and we want to teach this art to our children," embroiderer Hind said, concluding that "even with the new technologies, our art is still alive, and we hope that handmade products will live on".
Related Articles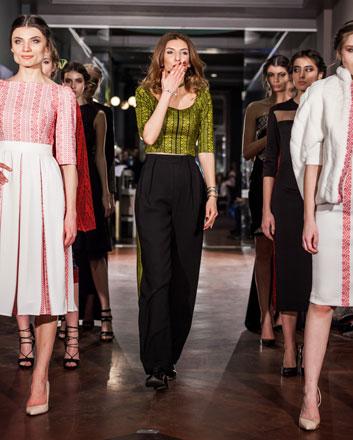 Feb 28,2017
AMMAN — Oriental embroidery, the olive tree and the black iris were present at the opening event of the Milan Fashion Week this year as repr
Sep 05,2017
AMMAN — When Iman Imarat started embroidering for the Jordan Craft Centre (JCC) Al Aydi at the age of 22, she knew little about how much her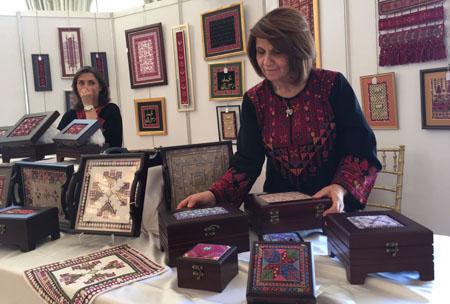 Oct 15,2016
AMMAN –– Young Palestinians are becoming more interested in their heritage, and are joining their mothers in embroidery work, an official at
Newsletter
Get top stories and blog posts emailed to you each day.