You are here
'Press freedom did not witness any significant improvement in 2014'
By Mohammad Ghazal - May 18,2015 - Last updated at May 18,2015
AMMAN — Media freedom in the country remained unchanged in 2014 when compared to 2013 and did not witness any significant improvement, according to a report released on Monday.
The Media Freedom Status in Jordan 2014 Report, prepared by the Centre for Defending the Freedom of Journalists (CDFJ), was launched on the occasion of World Press Freedom Day, annually marked on May 3.
Only 3.2 per cent of journalists believe that media freedom advanced significantly, while 19.7 per cent said media freedoms declined sharply in 2014, according to the report, which indicated 26.5 per cent of media professionals describe press freedom as low, while 2.4 per cent describe it as "excellent".
Citing the report, CDFJ President Nidal Mansour said 95.2 per cent of journalists said they exercised self-censorship in 2014, up from 91 per cent in 2013 and 85.8 per cent in 2012.
According to the survey, 93.2 per cent of journalists said they avoid topics related to the Jordan Armed Forces-Arab Army.
Noting that media freedom did not change positively last year, Mansour added that 26 per cent of journalists said the sector did not witness any reforms in 2014.
"2014 witnessed violations against media personnel... [their] situation worsened as hundreds were struggling to make a living," the CDFJ president said at a press conference to launch the report.
Mansour added that media personnel were subject to 869 violations over the past five months. Topping the list of violations was blocking news websites, the report indicated, adding that media personnel still avoid reporting violations, and job security affected media freedoms.
During Monday's press conference, CDFJ launched another report on media freedoms in the region, in which Jordan ranked fifth among Arab states.
Government interference remained an obstacle to media freedom last year, an opinion held by 81 per cent of respondents, compared to 84.2 per cent in 2013.
More than 51 per cent of journalists said legislation remained an obstacle to media freedoms in 2014, while 43 per cent believe that slander and defamation in the media dropped last year compared to 2013.
The report said there were soft containment attempts by different entities, with the government topping the list with 25 per cent, followed by commercial firms (22.5 per cent), businesspeople (19.7 per cent) and security bodies (7.9 per cent).
Some 58 per cent of journalists said soft containment attempts did not succeed in affecting their work and professionalism, while 49 per cent said they had heard of colleagues who were subjected to such attempts, the report revealed.
According to the survey, 41.5 per cent of journalists believe the government is not serious about building a free media.
Related Articles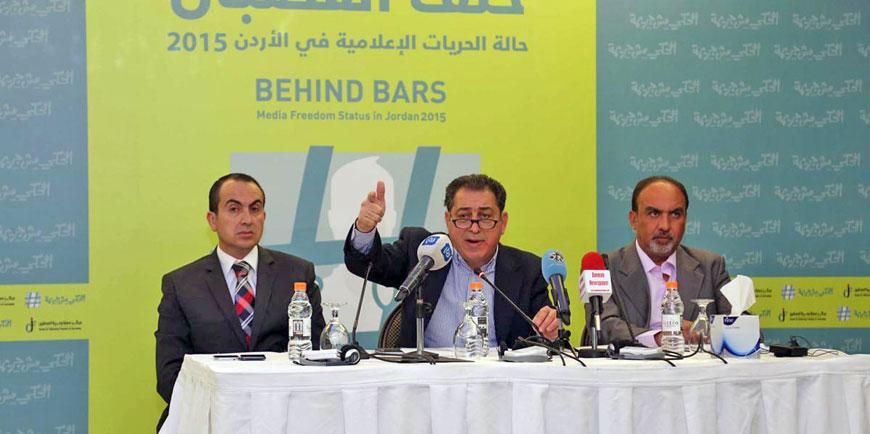 May 07,2016
AMMAN — Ten Jordanian journalists were detained last year under the Anti-Terrorism Law and the Electronic Crimes Law, while the total violat
May 03,2014
Freedom of the press in Jordan dropped by 12 percentage points to 41 per cent in 2013 compared to 2012, according to the Media Freedom Status in Jordan 2013 Report released on Saturday, which marks World Press Freedom Day.

Apr 30,2016
AMMAN — Jordan was ranked 145th out of 199 countries in Freedom House's "Freedom of the Press 2016" report, maintaining the same level of la
Newsletter
Get top stories and blog posts emailed to you each day.