You are here
Prince Hassan calls for more attention to justice, human dignity
Apr 22,2014 - Last updated at Apr 22,2014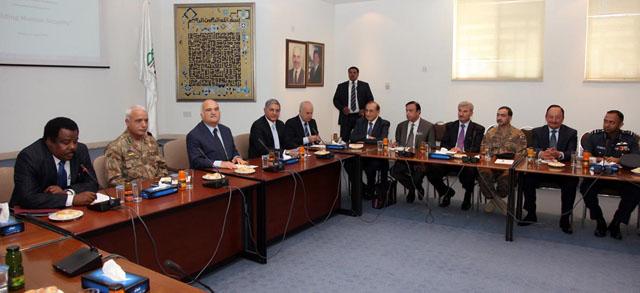 AMMAN — The absence of justice and a lack of respect for human rights and dignity are the major challenges that threaten the security and stability of communities, HRH Prince Hassan, president of the Arab Thought Forum (ATF), said on Tuesday.
During the second roundtable meeting organised by ATF in cooperation with the National Defence University of Pakistan, the prince discussed methods to rebuild "human security" in a region affected by growing geo-political threats.
Major challenges await human security in West Asia and Africa, surpassing what the region has faced so far, Prince Hassan said, calling for creating a nurturing environment for objective discussions on human dignity.
Human security and dignity are no longer getting the international attention they require, the prince noted.
He also referred to the social and economic challenges of hosting Syrian refugees in Jordan, in addition to refugees from other nations.
Receiving several waves of refugees and migrant workers places huge burdens on Jordan that require the international community to take "an honest stand" and offer further support to the Kingdom, Prince Hassan said.
He also reviewed the environmental effects of wars on human security and their impact on natural resources and desertification.
Pakistan's Ambassador to Jordan Ahsan Azhar Hayat praised Prince Hassan's efforts in bringing together the views of the world's peoples.
At the beginning of the meeting, ATF Secretary General Elsadig Bakheet Elfaqih reviewed its purpose and importance as a continuation of ATF's interaction with international specialised centres to show the world the reality of the region.
Related Articles
Apr 27,2014
Prime Minister Abdullah Ensour on Sunday received Secretary General of the Arab Thought Forum (ATF) Elsadig Bakheet Elfaqih and discussed ways to enhance cooperation.
Mar 05,2015
HRH Prince Hassan, president of the Arab Thought Forum (ATF), on Thursday appointed Mohammad Abu Hammour as acting ATF secretary general as of March 1, after Secretary General Elsadig Elfaqih finished his term.
Nov 08,2014
The Arab Thought Forum (ATF) and the National Defence University of Pakistan on Friday signed a cooperation agreement on research, joint scientific events and the annual exchange of fellows.
Newsletter
Get top stories and blog posts emailed to you each day.