You are here
Prince Hassan, Hungary's President Ader discuss regional challenges
By JT - May 27,2019 - Last updated at May 27,2019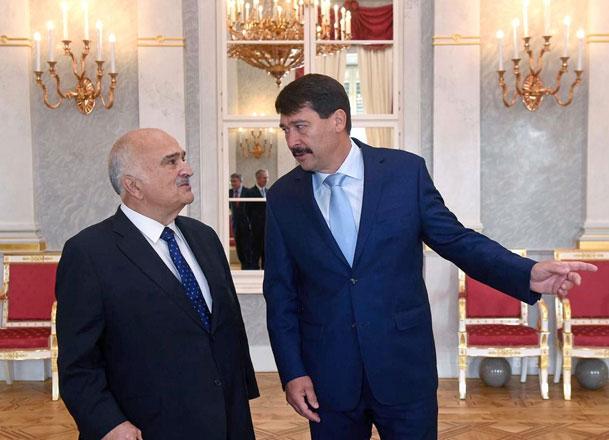 HRH Prince Hassan has concluded a visit to Budapest, where he discussed with Hungarian President Janos Ader the consequences of the Syrian refugee crisis on Jordan and the pressures it has caused on all levels (Photo courtesy of Prince Hassan's office)
AMMAN — HRH Prince Hassan has concluded a visit to Budapest, during which he met with Hungarian President Janos Ader, according to a statement carried by the Jordan News Agency, Petra, on Monday.
The prince and the president discussed the repercussions of the Syrian refugee influx on Jordan and the pressures it has caused on all levels, Petra reported.
Jordan provides a safe haven for a large number of refuge seekers from neighbouring countries, Prince Hassan noted, adding that the stability of the Levant region depends on cooperation among key players.
Stability in the region cannot be achieved without integration among regional countries to address issues related to water, energy, environment and mapping sectors, he explained.
The only way to mobilise the concept of stability is through creating accurate information in the space, humanitarian and economic fields, the prince added.
New concepts are required today, encompassing elements of humanitarian and democratic security, he highlighted.
A consolidated regional voice is needed to speak for the entire region and represent its many views, Prince Hassan underlined, pointing to the importance of joint action and thought for a future that include the peoples of the region.
Efforts must be made to further enhance strategic dialogue based on the priorities and common challenges of the region, he said.
For his part, the Hungarian president praised the Kingdom's efforts in hosting refugees despite the challenges.
There has to be economic, environmental and other mechanisms with the cooperation of stakeholders, Ader said, in order to find comprehensive solutions to regional challenges.
On water challenges, the president highlighted the importance of preventive solutions based on previous successful experiments, Petra said.
Newsletter
Get top stories and blog posts emailed to you each day.