You are here
Prince Hassan tours National Aid Fund headquarters
By JT - Aug 19,2019 - Last updated at Aug 19,2019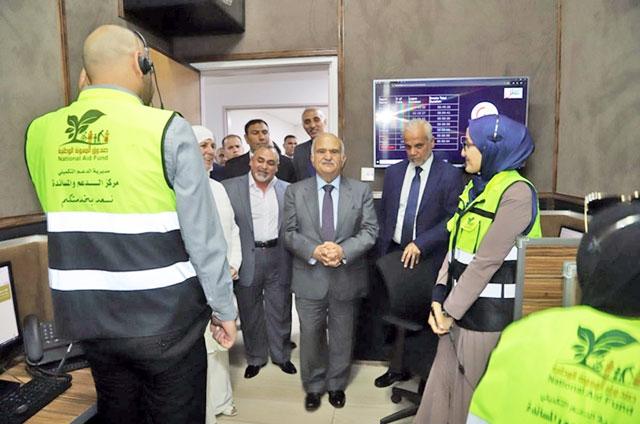 HRH Prince Hassan visits the National Aid Fund headquarters on Monday (Petra photo)
AMMAN — HRH Prince Hassan, chairman of the Higher Council for Science and Technology, on Monday visited the National Aid Fund's (NAF) headquarters, having a first-hand look at the most notable achievements of the complementary support programme "Takaful".
During his visit, the Prince highlighted the need to transform into "a creative society", pointing to the role and efforts of the Ministry of Social Development and the NAF in "selecting new creative fields", a statement from the prince's office said.
The Prince noted that the issue of poverty cannot be approached without a discussion of deprivation, recognising citizens' basic needs and granting them access to education and knowledge.
He stressed the importance of focusing on the economic dimension as well as coordination among all stakeholders to "build trust" and focus on activating the "wheel of development" in various sectors including education, health and mental health.
In a discussion with those in attendance about the NAF's initiative to improve nutrition in schools, the Prince highlighted the UN's Zero Hunger Sustainable Development Goal, which has received financial support from international institutions such as the World Food Programme.
He also underlined the necessity of cooperation between the private sector, notably the foodstuffs sector, and the public and education sectors in supporting the NAF's school nutrition initiative.
Minister of Social Development Basma Ishaqat, who is also president of the NAF, highlighted the ministry's success in building a "new database" in cooperation with a number of governmental departments, and called for joint action between various governmental departments towards a definition of poverty, according to the statement.
The complementary support programme "Takaful" (solidarity in Arabic) consists of five primary and complementary services, including direct financial support to underprivileged families, alternative and renewable energy services, a health insurance support programme and financial support to cover underprivileged families' public transportation expenses, NAF Director General Omar Mashaqbeh said.
Newsletter
Get top stories and blog posts emailed to you each day.