You are here
Princess Basma: Gender gap 'still abysmal'
By Laila Azzeh - Jun 01,2016 - Last updated at Jun 01,2016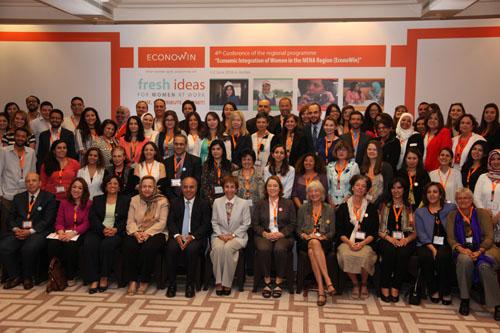 HRH Princess Basma with participants in the Regional Conference on Gender Equality in the Economy in Amman, on Wednesday (Petra photo)
AMMAN — HRH Princess Basma on Wednesday said that even after decades of work towards creating effective gender equality, the gap between the two sexes is still "abysmal".
Speaking at the Regional Conference on Gender Equality in the Economy, she noted that women still suffered from two phenomena: the inability to work in some sectors and difficult access to leading positions across all fields.
"Gender equality is not only moral, for it requires empowering all humans, but social sciences and extensive research and analysis prove that equality is an objective requirement," said the princess.
Increasing the economic participation of women to reach equality with men would boost the gross domestic product of the US by 5 per cent, Japan by 9 per cent, the UAE by 12 per cent and Egypt by 34 per cent, the princess said, citing recent studies.
She highlighted that the International Labour Organisation's figures show that 856 million women in the world have the potential to contribute more fully to their national economies, some 812 million of whom live in emerging and development economies.
"I believe a considerable number of [them] are in our Arab region," the princess said.
While some still believe that women's participation in the labour market reduces work opportunities for men, this is based on a perception that job opportunities are "limited" and "stagnant", which "cannot be further from the truth", she added.
"Women's economic participation might reduce opportunities available to some men, but it enables the society to create more opportunities for men and women thanks to the increase in overall income," the princess explained.
Organised by the Deutsche Gesellschaft für Internationale Zusammenarbeit (GIZ), the two-day conference brings together representatives of over 40 civil society institutions, universities and media outlets from several Arab countries to discuss the trends and opportunities for women in economy in the MENA region.
Titled, "Fresh Ideas for Women at Work — Come, Contribute, Commit!", the conference is giving participants the opportunity to learn more about innovative approaches to women's economic integration.
The conference is also part of the GIZ programme "Economic Integration of Women in the MENA Region" (EconoWin), which carried out the awareness campaign, "Ana hunna — I am here, je suis là".
The campaign includes a network of members who work towards mobilising the potential of women at work in the MENA region.
GIZ Country Director Michaela Baur noted that "there is for sure no one-size-fits-all in gender policies".
"Gender issues are so embedded in socio-cultural, political, religious and economic circumstances, that there is no blueprint for what gender equality means and how to get there. GIZ is supporting this process of localisation in many projects," she said.
GIZ Jordan has been engaged in promoting gender equality through different projects concerning employment and women's political participation.
"Our approach is to work together with the community here in Jordan, with governmental institutions, NGOs, universities and others, instead of coming up with disconnected ideas from abroad," Baur said.
Related Articles
May 15,2016
AMMAN — Three Palestinian women organisations have won the Manara Award for Gender Equality, the organisers announced on Sunday.The candidat
Feb 03,2016
AMMAN — New challenges in the region — including the refugee crisis, terrorism and extremism — are affecting the well-being of women and chi
Nov 16,2015
AMMAN — The average rate of women's participation in the economy amounts to only 14 per cent, with increases registered in the badia, govern
Newsletter
Get top stories and blog posts emailed to you each day.